The Secret of Writing Options: An Australian Guide to Trading Options for Profit
ISBN: 978-1-876627-14-0
176 pages
February 2012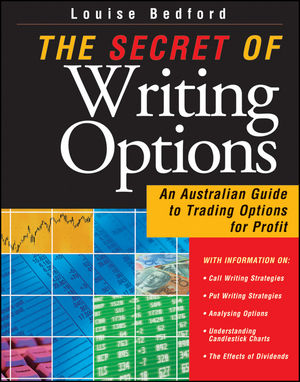 An introduction to trading options, written by a very successful trader with many years' experience in the market. It focuses on the practical rather than the theoretical and describes, step-by-step, basic strategies for successful trading. The book includes real-life examples of the author? trades. It is invaluable for both novices and more experienced traders.
See More
Foreword by Christopher Tate
Preface - From Corner Office to Home Office
1 Boom or Bust
2 What are Call Options?
3 What are Put Options?
4 The Pricing Puzzle
5 Analytical Excellence
6 Candlestick Secrets
7 Call Writing Strategies
8 Put Writing Strategies
9 Defending Your Turf
10 The Dividend Effect
11 The Options Game
12 A Paperwork Jungle
13 The Emotional Rollercoaster
14 Ready, Set,..... Go
Glossary
Further Reading
Acknowledgments
Index
See More
Louise Bedford has degrees in Psychology and Business from Monash University. She trades full-time from her home in Melbourne and is a regular speaker on the subject. She also conducts workshops and seminars throughout Australia, and is the author of top-selling books The Secret of Candlestick Charting, Trading Secrets and Charting Secrets.
See More
Learn more about