The Secret of Candlestick Charting: Strategies for Trading the Australian Markets
ISBN: 978-1-876627-28-7
184 pages
February 2012, Wrightbooks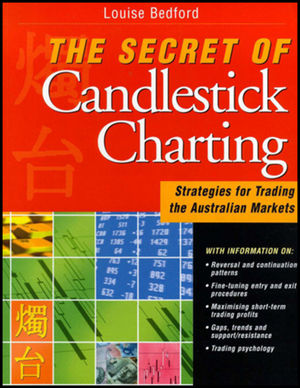 Most traders on the ASX are familiar with line and bar charts, but there has never before been a book written in Australia on the ancient Japanese art of candlestick charting. Louise Bedford, author of the highly successful The Secret of Writing Options, writes in a clear, concise way and uses plenty of examples to help readers understand candlesticks and use them to profitably trade the markets.
See More
Part I - Candlestick Pattern Secrets
1 Let's Get Started
2 Single-Line Candle Reversal Patterns
3 Two-Line Candle reversal Patterns
4 Three-Line Candle Reversal Patterns
5 Trading Concepts and Continuation Patterns
Part II - Analysis Secrets
6 Candles and Gaps
7 Support and Resistance
8 Western Techniques and Candles
9 Share Stages
Part III - Trading Secrets
10 A Kindred Spirit
11 Seven Golden Candlestick Rules
Further Reading
Glossary
Index
See More
Louise Bedford has degrees in Psychology and Business from Monash University. She trades full-time from her home in Melbourne and is a regular speaker on the subject. She conducts workshops and seminars throughout Australia and is the author of the top-selling books, The Secret of Writing Options, Trading Secrets and Charting Secrets.
See More
Learn more about