Textbook
First Person Past, Volume 1: American Autobiographies, 2nd Edition
ISBN: 978-1-881089-07-0
268 pages
August 2003, ©2003, Wiley-Blackwell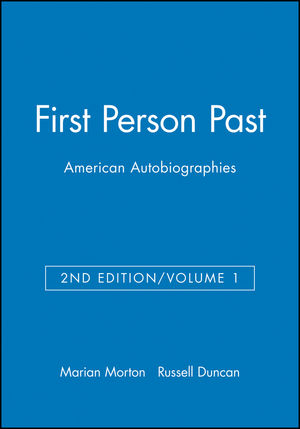 The novelist William Dean Howells described autobiography as the most democratic of American literary genres. Autobiography has offered a voice to women, African Americans, Native Americans, and others whose writings have often been excluded from the literary canon.The men and women presented here observed, shaped, or participated in many of the most exciting and important events of American history.
First Person Past
lets them speak for themselves.
From the hundreds of American autobiographies, the editors have chosen twelve for each of Volumes I and II of First Person Past because they are interesting history and good literature. Their literary and historical virtues have been preserved as edited for inclusion in each volume.
See More
Introduction.
Anne Bradstreet: "To My Dear Children" (1650).
Elizabeth Ashbridge: Some Account of the Part of the Life of Elizabeth Ashbridge (1774).
Olaudah Equiano: The Life of Olaudah Equiano, or Gustavus Vassa the African Written by Himself (1789).
Benjamin Franklin: Autobiography (1817).
Davy Crockett: A Narrative of the Life of David Crockett of the State of Tennessee, Written by Himself (1834).
Black Hawk: Life of Ma-Ka-Tai-Me-She-Kia-Kiak or Black Hawk (1833).
Harriet H. Robinson: Loom and Spindle, or Life Among the Early Mill Girls (1898).
Frederick Douglass: Narrative of the Life of Frederick Douglass, An American Slave: Written by Himself (1845).
Harriet A. Jacobs: Incidents in the Life of a Slave Girl, Written by Himself (1861).
Elizabeth Cady Stanton: Eighty Years and More: Reminiscences, 1815-1897 (1898).
Ulysses S. Grant: The Personal Memoirs of U. S. Grant (1885-1886).
Tunis Gulic Campbell: Sufferings of the Rev. T. G. Campbell and His Family, in Georgia (1877).
Bibliography.
See More
Russell Duncan
is a professor at the University of Copenhagen, Denmark.
Marian Morton is a professor at John Carroll University.
See More
Learn more about