The Birth of American Feminism: The Seneca Falls Woman's Convention of 1848
ISBN: 978-1-881089-34-6
240 pages
August 1995, Wiley-Blackwell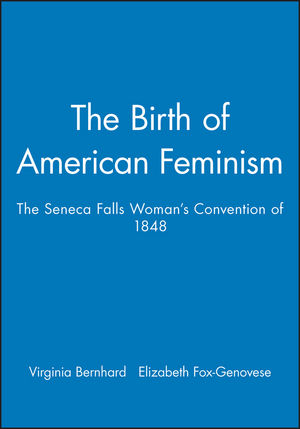 The Seneca Falls Convention of 1848 was at the beginning of the long struggle for women's rights in the United States. The documents collected in this anthology bring to life the anger and the excitement of a moment when a small but determined group of women dared to challenge the laws and customs of a society dominated by men.
See More
Introdution.
Part I: Women as Activists: The Beginnings.
Part II: The Seneca Falls Convention of 1848.
Part III: The Flowering of the Women's Movement: The Lily (1849-1856).
Part IIII: The Momentum: Women's Rights Conventions After Secneca Falls.
Part V: The History as Participants Remembered It.
See More
Virginia Bernhard
has published two historical novels, set in seventeenth-century Virginia and Bermuda, as well as a biography of a Texas governor's daughter. She coedited
Southern Women: Histories and Identities
(1992) and teaches at the University of St. Thomas in Houston. Professor Bernhard has served on the Advanced Placement test development committee for United States history.
Elizabeth Fox-Genovese is Eleonore Raoul Professor of the Humanities at Emory University. She is editor of the Journal of the Historical Society, and author of Within the Plantation Household: Black and White Women of the Old South (1988); Feminism without Illusions: A Critique of Individualism (1991); "Feminism is Not the Story of My Life": How Today's Feminist Elite Has Lost Touch with the Real Concerns of Women (1996); Reconstructing History: The Emergence of a Historical Society, co-edited with Elisabeth Lasch-Quinn (1999); and Women and the Future of the Family (2000).
See More