Textbook
Honest Graft: The World of George Washington Plunkitt (Plunkitt of Tammany Hall), 2nd Edition, Revised
ISBN: 978-1-881089-58-2
176 pages
November 2006, ©2006, Wiley-Blackwell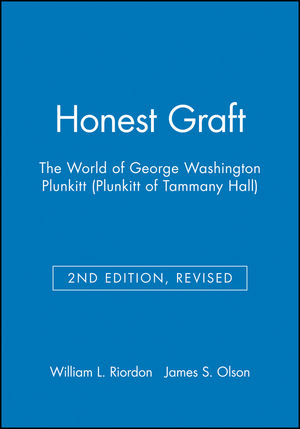 William L. Riordon's compiling and embroidering of Boss Plunkitt's boastful comments on machine politics constitutes a minor classic in American social history. in an introduction to this edition of the political boss's remarks, James S. Olson, chairman of the history department at Sam Houston State University, and James W. Mooney of American University engage in a provocative exchange over how the boss mentality as Plunkitt expressed it is to be judged. Thereby they complicate and enrich a reader's perception of the practical devices and ethical ambiguities of popular politics.
"Tammany Hall was far more than a disinterested detached city government for several million poor, working-class New Yorkers. It was also a successful city government delivering municipal services, a social welfare agency assisting the immigrant poor and their children in adjusting to the new country, a political interest group giving working-class people at least a modest voice in an economic world increasingly dominated by rich corporations."
--James S. Olson

"In essence: the machine politicos, for all their genuine resonance with their constituencies, saw the average voter as a creature of appetite; the scientific progressives, for all their hauteur, expected something better of the public and were prepared to work for it."
--James W. Mooney
See More
Part I: Honest Graft: Two Views.
The World of George Washington Plunkitt (James S. Oslon).
The Problem of the Cities Revisited (James W. Mooney).
Part II: Plunkitt of Tammany Hall.
Preface (William L. Riordon).
A Tribute (Charles F. Murphy).
Honest Graft and Dishonest Graft.
How to Become a Statesman.
The Curse of Civil Service Reform.
Reformers Only Mornin' Glories.
New York City Is Pie for the Hayseeds.
To Hold Your District: Study Human Nature and Act Accordin'.
On The Shame of the Cities.
Ingratitude in Politics.
Reciprocity in Patronage.
Brooklynites Natural-Born Hayseeds.
Tammany Leaders Not Bookworms.
Dangers of the Dress Suit in Politics.
On Municipal Ownership.
Tammany the Only Lastin' Democracy.
Concerning Gas in Politics.
Plunkitt's Fondest Dream.
Tammany's Patriotism.
On the Use of Money in Politics.
The Successful Politician Does not Drink.
Bosses Preserve the Nation.
Concerning Excise.
A Parting Word on the Future of the Democratic Party in America.
Strenuous Life of the Tammany District Leader.
See More
James S. Olson is Distinguished Professor of History at Sam Houston State University. He is the recipient of the university's Excellence in Teaching Award and Excellence in Research Award. He is the author, co-author, editor, or co-editor of more than thirty books, including The Ethnic Dimension in American History, Third Edition (Blackwell, 1999); Catholic Immigrants in America (1993); Winning is the Only Thing: Sports in America Since 1945 (1989); and John Wayne American (1996), which won the Ray and Pat Brown National Book Award from the Popular Culture Association. His book A Line in the Sand: The Alamo in Blood and Memory (2001) won the Diolece Parmelee Award from the Texas Historical Foundation. Finally, his most recent book--Bathsheba's Breast: Women, Cancer, and History (2002)--was nominated by The Johns Hopkins University Press for the Pulitzer Prize in History, won the History of Science Category Award from the Association of American Publishers, and was recognized by the Los Angeles Times as one of the best non-fiction books in America for 2002.
See More
Buy Both and Save 25%!
Honest Graft: The World of George Washington Plunkitt (Plunkitt of Tammany Hall), 2nd Edition, Revised (US $33.95)
-and- A Companion to 19th-Century America (US $61.95)
Total List Price: US $95.90
Discounted Price: US $71.92 (Save: US $23.98)
Cannot be combined with any other offers. Learn more.