Changing Practices in Evaluating Teaching: A Practical Guide to Improved Faculty Performance and Promotion/Tenure Decisions
ISBN: 978-1-882982-28-8
304 pages
August 1999, Jossey-Bass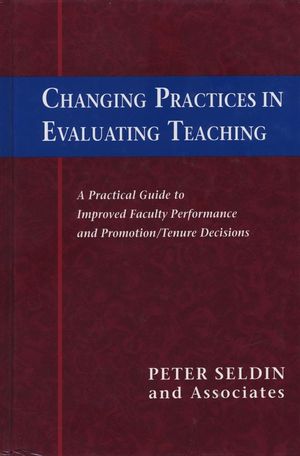 Over recent decades, the evaluation of teaching has undergone dramatic change. In accessible language and supportive detail,
Changing Practices in Evaluating Teaching
provides not only a cogent overview of these changes but also reflects on current developments to present several useful strategies for implementing new tools and methods in the evaluation of teaching. The authors are all prominent educators who have performed seminal work in the improvement of teaching evaluation.
Written for university and college administrators as well as faculty, this book is a complete guidebook that supplies a wealth of case studies, examples, tables, Web sites, and exhibits that further enhance its utility. It explains how to
Gain genuine faculty and administrative support
Avoid common weaknesses in teaching evaluation by students, peers, and self
Evaluate teaching by examining student learning
Successfully combine disparate sources of data
Establish a climate conducive to evaluation
How to structure and use classroom visits, rating forms, electronic classroom assessment, and teaching portfolios
Changing Practices in Evaluating Teaching makes evident the compelling reasons why colleges and universities must institute fair teaching evaluation systems, and explains how to do so. With a notable focus on improving student learning, this book offers readers the kind of research-based and ready-to-use information required to foster truly effective and equitable teaching evaluation at their institutions.
See More
About the Author.
About the Contributors.
Foreword.
Preface.
1. Current Practices—Good and Bad—Nationally (Peter Seldin).
2. Student Ratings of Professors: Uses and Misuses (William E. Cashin).
3. Using Feedback to Improve Teaching (Michele Marincovich).
4. Evaluating Teaching Through Peer Classroom Observation (Deborah DeZure).
5. Self-Evaluation: What Works? What Doesn't? (Peter Seldin).
6. Post-Tenure Review: Evaluating Teaching (Joseph C. Morreale).
7. Evaluating Teaching Through Electronic Classroom Assessment (Devorah A. Lieberman).
8. Using the World Wide Web to Improve Teaching Evaluation (Clement A. Seldin).
9. Evaluating Teaching Through Portfolios (John Zubizarreta).
10. Administrative Courage to Evaluate the Complexities of Teaching (Joan DeGuire North).
11. Building a Climate Conducive to Effective Teaching Evaluation (Mary Lou Higgerson).
12. Building Successful Teaching Evaluation Programs (Peter Seldin).
13. Summary and Recommendations for Evaluating Teaching (Peter Seldin).
References.
Index.
See More
Peter Seldin is distinguished professor of management at pace University, Pleasantville, New York. A behavioral scientist, educator, author, and specialist in the evaluation and development of faculty and administrative performance, he has been a consultant to nearly 300 colleges and universities throughout the US and in 26 countries around the world.
A well-known speaker at national and international conference Seldin regularly serves as a faculty leader in programs offered by the American Council on Education, the American Association for Higher Education, and the American Assembly of Collegiate Schools of Business: the International Association for Management Education.
His well-received books include: The Teaching Portfolio, Second Edition (1197), Improving College Teaching (1995, with associates), Successful use of Teaching Portfolios (1993, with Associates), The Teaching Portfolio, First Edition (1991), How Administrators Can Improve Teaching (1990, with associates), Evaluating and Developing Administrative Performance (1988), Coping With Faculty Stress (1987, with associates), Changing Practices in Faculty Evaluation (1984), Successful Faculty Evaluation Programs (1980), Teaching Professors to Teach (1977), and How College Evaluate Professors (1975).
He has contributed to numerous articles on the teaching profession, student ratings, educational practice, and academic culture to such publications as The New York Times, The Chronicle of Higher Education and Change magazine,. For his contributions to the scholarship of teaching, he has received honorary degrees from Keystone College (Pennsylvania) and Columbia College (South Carolina).
See More
Learn more about