Using Student Teams in the Classroom: A Faculty Guide
ISBN: 978-1-882982-37-0
222 pages
October 2000, Jossey-Bass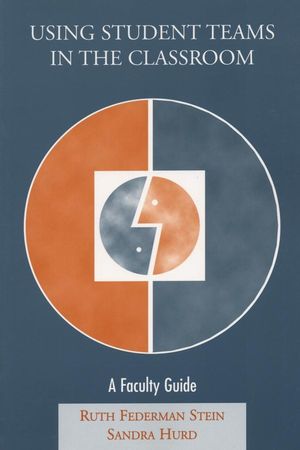 Teamwork builds cooperation, problem solving, active learning, and responsibility, all of which are increasingly important in both the classroom and in the workplace.
Using Student Teams in the Classroom
is a helpful guide for all faculty who want to actively engage students with both the material and one another by using teamwork.
Beginning with the theory behind teamwork, the book suggests basic ways to incorporate collaboration and discussion into the college classroom, encourage effective communication, and help resolve conflict. It then moves into practical guidelines, examples, and activities and teaching tips for using student teams. The examples span twenty disciplines: architecture, behavioral ecology, ceramics, child and family studies, distance learning, education, engineering, English, fine arts, health and exercise science, higher education, human resource management, supply chain management, mathematics, nursing, nutrition, hospitality and food service management, public affairs, sociology, and writing. Finally, the authors have compiled several articles and a case study on performance in small groups and cooperative learning, along with a list of list of additional resources.
Instructors of any subject, of any class size, will be able to learn from and implement the important lessons in this book, thus offering their own students the cognitive, social, and collaborative skills that will aid them in their intellectual and professional endeavors.
See More
About the Authors.
Foreword.
Preface.
Acknowledgments.
Part I: Teamwork Theory and Discussion.
Chapter 1. Teamwork Theory and Discussion.
Part II. Building Effective Teams.
Chapter 2. Technology and Teamwork.
Chapter 3. Exercise for Students: How Do I Learn Best?
Chapter 4. Guidelines for Student Teams.
Chapter 5. Group Exercises.
Chapter 6. Managing Conflict.
Chapter 7. Team Evaluation.
Chapter 8. Top-Notch Tips for Team Learning.
Part III: Teamwork in the Disciplines.
Architecture.
Behavioral Ecology.
Introductory Ceramics.
Child and Family Studies.
Distance learning, Technology, and Teamwork.
Education.
Engineering.
English and Textual Studies.
Fine Arts.
Health and Exercise Science.
Higher Education.
Management.
Mathematics.
Nursing.
Nutrition and the Hospitality and Food Service.
Management Programs.
Public Affairs.
Sociology.
Writing.
Part IV: Articles/Resources.
Chapter 9. Enhancing Performance in Small Groups.
Chapter 10. Spectators and Gladiators: Reconnecting the Students with the Problem.
Chapter 11. Betty Mile's Worst Nightmare: A Cooperative Learning Dilemma.
References.
Index.
See More
RUTH FEDERMAN STEIN
interviewed Sandra Hurd for her dissertation,
Conditions that Facilitate the Implementation of Innovative Freshman Experience Courses
. At that time Sandy, as part of her course load, taught and advised a recitation section in Syracuse University's School of Management introductory management course. Later she became the course director and worked with Ruth on the course manual and a handbook of teamwork in college that evolved into this book.
Ruth currently works at the Center for Support of Teaching and Learning at Syracuse University. Some of her activities include organizing Focus on teaching sessions for faculty, helping to coordinate the university's Vision Fund Project, and working with faculty to improve teaching and learning on the campus.
SANDRA HURD is department chair and professor of law and public policy in the School of management at Syracuse University and serves as faculty coordinator of the university's learning communities program. She continues to direct the freshman management course and developed a learning community program for firs-year students in management.
See More
Learn more about