To Improve the Academy: Resources for Faculty, Instructional, and Organizational Development, Volume 20
ISBN: 978-1-882982-46-2
Paperback
324 pages
October 2001, Jossey-Bass
US $40.00

Add to Cart
This price is valid for United States. Change location to view local pricing and availability.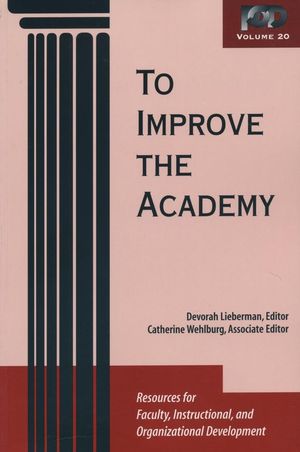 Preface.
Introduction.
Section I: The University.
1. Institutional Transformation and Change: Insights for Faculty Developers (Peter D. Eckel).
2. A Brief History of Educational of Educational Development: Implications for Teachers and Developers (Richard R. Tiberius).
3. Linking Change Initiatives: The Carnegie Academy for the Schlorship of teaching and Learning in the Company of other national Projects (Barbara Cambridge).
4. Could It Be That It Does make Sense? A Program Review Process for Integrating Activities (Terrel Rhodes).
Section II: Teaching and Learning Centers.
5. Getting Started with faculty Development (Nadia Cordero de Figueroa and Pedro A. Sandlin-Fremaint).
5. research on Faculty as Teaching mentors (Linda von Hoene and Jacqueline Mintz).
7. Evaluating Teaching Workshops: Beyond the Satisfaction Survey (David G. Way, Virleen M.Carlson, and Susan C. Piliero).
8. Mandatory Faculty Development Works (Mona B. Kreaden).
9. Operational Diversity: Saying What We Mean, Doing What We Say (Wayne Jacobson, Jim Borgford-Parnell, Katherine frank, Michael Peck, and Lois Reddick).
10. What Do Faculty Think? The Importance of Concerns Analysis in Introducing Technological Change (HeeKap Lee and Amy Lawson).
11. Harnessing the Potential of Offline faculty Development: Challenges and Opportunities (Timothy P. Shea, Pamela D. Sherer, and Eric W. Kristensen).
Section III: The Learner, the Professor, and the Learning Environment.
12. The Millennial Learner: Challenge and Opportunities (Saundra Y. McGuire and Dennis A. Williams).
13. The Evolution of a Teacher-Professor: Applying Behavior Change Theory to Faculty Development (Fred Hebert and Marty Loy).
14. Overcoming Cultural Obstacles to new Ways of Teaching: The Lilly Freshman Learning Project at Indiana University (Joan Middendorf and David Pace).
15. Instructional Development: Relationships to Teaching and Learning in Higher Education (Kathleen McKinney).
16. The Graphic Syllabus: Shedding a Visual Light on Course development (Linda B. Nilson).
17. Teaching Through Discussion as the Exercise of Disciplinary Approach to Faculty Development (John P. Hertel, Barbara J. Millis, and Robert K. Noyd).
Bibliography.