Adjunct Faculty in Community Colleges: An Academic Administrator's Guide to Recruiting, Supporting, and Retaining Great Teachers
ISBN: 978-1-882982-81-3
246 pages
January 2005, Jossey-Bass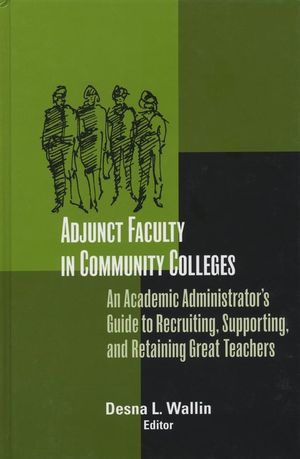 The employment of adjunct faculty is often what allows community colleges to offer excellent yet affordable education; however, this group is often deprived of the professional development and basic amenities enjoyed by their full-time colleagues.
Academic administrators are those charged with hiring and supervising adjunct faculty, and this book provides them with examples of successful programs that highlight the important connection between teaching quality and effective hiring, orientation, acculturation, and professional development practices for their constituency. These models come from community and technical colleges across the United States and can be implemented into any two-year system.
Through the use of research, case studies, and hands-on how-to guides, checklists, and samples, this volume's expert contributors explain how to understand part-time faculty— how to motivate them and value them as members of the academy. They go on to offer practical advice for recruiting, integrating, supporting, and retaining these great teachers.
See More
About the Authors.
Foreword.
Preface.
Acknowledgments.
Part I. Understanding Part-Time Faculty.
1. Valuing and Motivating Part-Time Faculty (Desna L. Wallin).
2. Part-Time Community College faculty and Their Full-Time Counterparts (Duane Akroyd and Amy L. Caison).
3. Adjunct Faculty as Valued members of the Academy (Eduardo J. marti).
4. Enculturation and Development of Part-Time Faculty (Kristel D. Phillips and Dale F. Campbell).
Part II. Recruiting and Retaining Part-Time Faculty.
5. One faculty: Hiring Practices and Orientation (Joseph L. Gadberry and Helen Burnstad).
6. The Challenge and Effective Use of Part-Time faculty (Alice W. Villadsen and Thomas I. Anderson).
7. Retention of Part-Time Faculty (Helen Burnstad and Joseph L. Gadberry).
8. A Strategic Model for Integrating Prepared Adjunct Faculty Into the College Culture (Richard E. Lyons).
Part III. Supporting Part-Time Faculty Through Technology.
9. Supporting and Sustaining Adjunct Faculty With 4faculty.org (Kristina Kauffman).
10. Supporting Adjunct Faculty as if the College's Life Depended on it (Deborah Stewart and Rebecca Werner).
11. The Rio Salado College System's Approach to Strategic Success With Adjunct Faculty (Hazel M. Davis, Laura Helminski, and Vernon C. Smith).
12. A Case Study of the Online Adjunct Training Environment at Sante Fe Community College (Richard L. Wagoner).
13. Impications and Recommendations for Recruiting, Supporting, and Retaining Adjunct Faculty (Desna L. Wallin).
Index.
See More
DESNA L. WALLIN is an assistant professor in the Department of Lifelong Education, Administration, and Policy at the University of Georgia. She has more than 25 years of experience in community and technical colleges. She began her career as an adjunct instructor at Lincoln Land Community College. She subsequently became a tenured instructor, served as dean of transfer, general studies, and developmental programs, and as vice president for academic affairs. She accepted the presidency of Clinton Community College in 1989 and served for six years before assuming the presidency of Forsyth Technical community College, where she served for an additional six years. She is the author of numerous articles and chapters, a coauthor of Essentialism: Common Sense Quality Improvement (American Association of Community Colleges, 1994) and author of The CEO Contract: A Guide for Presidents and Boards (American Association of Community Colleges, 2003). An active leadership consultant, she is currently working with various state organizations and the American Association of Community Colleges to provide leadership development seminars and workshops for faculty and administrators in community technical colleges.
Dr. Wallin is an honors graduate of Brigham Young University. She earned her master's degree in English education at Eastern Illinois University and her Ed.D. in curriculum and instruction from Illinois State University.
See More
Learn more about