Service-Learning Code of Ethics
ISBN: 978-1-882982-83-7
217 pages
May 2005, Jossey-Bass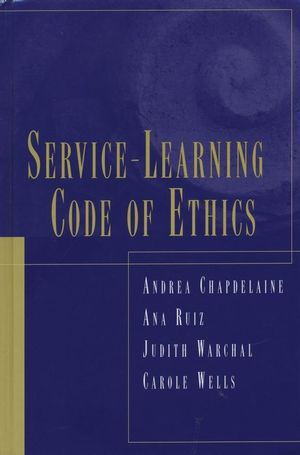 Envisioning a system of higher education that meets community needs by cultivating in students a commitment to civic engagement, the authors of
Service-Learning Code of Ethics
equip readers with the necessary insight and tools for navigating the ethical dilemmas that arise during the service-learning process. Designed for administrators, instructors, and students, the book is intended to stimulate meaningful reflection, class discussion, and values exploration. Its aim is to promote the practice of service-learning by underscoring its benefits to society and student development.
The authors offer a basic road map for practicing service-learning that includes
An overview of service-learning and its role in American higher education
A review of existing professional codes and ethics
A proposed code of ethics and model for ethical decision-making
Hypothetical dilemmas and question sets that help guide the reader to an understanding of the broader issues involved in service-learning
Templates to measure progress in adhering to the service-learning code
A general guideline for risk-management in service-learning
While the stated mission of many colleges and universities is to teach the democratic ideals of the nation, build moral character, and cultivate an educated and engaged citizenry, most fall short of incorporating this goal into their curricular programs. By reflecting critically upon service-learning experiences, Service-Learning Code of Ethics makes a constructive argument for change.
See More
About the Authors.
Foreword.
Preface.
Acknowledgements.
Part I: Introduction.
1. Overview of Service-Learning.
2. Service-Learning Code of Ethics.
Part II: Students.
3. Service-Learning Code of Ethics for Students.
4. Conflict Between Student Personal Commitments and Service-Learning Requirement.
5. Confidentiality and Student Responsibility to Agency.
6. Research and Informed Consent.
7. Treating Service Recipients With Respect and Understanding Assignment Limitations.
8. Service-Learning Requirement Places Psychological Burden on Student.
Part III: Faculty.
9. Service-Learning Code of Ethics for Faculty.
10. Faculty Responsibility to the Community Agency.
11. Student Poses a Potential Risk in Service-Learning Placement.
12. Academic Freedom and Service-Learning.
13. Misuse of Results of Service-Learning Research Project.
Part IV: Administrators.
14. Service-Learning Code of Ethics for Administrators.
15. University Policies and Faculty Implementation of Service-Learning.
16. Administrator Commitment to Service-Learning.
17. Treat All Constituents in a Manner Consistent With Ethical Principles.
18. Allocation of Institutional Resources and Service-Learning Implementation.
Part V: Assessment and Risk Management.
19. Assessment of Service Learning Code of Ethics.
20. Service-Learning and Risk Management.
Appendix. Additional Dilemmas.
Bibliography.
Index.
See More
Andrea Chapdelaine
received her B.A. in psychology and justice studies from the University of New Hampshire and her Ph.D. in social psychology from the University of Connecticut. Now at Albright College, she is acting vice president of academic affairs and an associate professor in psychology. Previous articles on service-learning pedagogy have appeared in
Teaching of Psychology and CUR Quarterly
.
Ana Ruiz is an associate professor at Alvernia College. She earned a bachelor's degree at Catholic University of Pernambuco while growing up in Brazil. She completed her master's degree in cognitive development at Federal University of Pernambuco and obtained a doctoral degree in developmental psychology from Cornell University. She has used service-learning mostly in undergraduate research courses or outcome evaluations programs. In June 2003 she received a Campus Compact grant to identify the effect of service-learning experience on alumni employment choices in community engagement. She has also participated in several conferences discussing service-learning issues in general and the ethics of service-learning in particular.
Judith Warchal earned her B.A. in elementary/special education from King's College, her M.S. in rehabilitation counseling from the University of Scranton, and her Ph.D. in counseling psychology from Lehigh University. She is an associate professor of psychology and coordinator of the Master of Arts in Community Counseling at Alvernia College. She is a licensed psychologist with a clinical practice at the Center for Mental Health at The Reading Hospital and Medical Center. Her research interests include service-learning, program evaluation, and mental health issues of the elderly.
Carole Wells is an associate professor of psychology and interim assistant dean at Kutztown University, She developed an interest in psychology while an undergraduate at LaSalle University. She received her Ph.D. in social psychology and human resource management from Temple University. In addition to service-learning as pedagogy, her research focuses on trust, strategies of influence, and leadership in organizations; post-retirement activities of leaders and nonleaders; and conflict and conflict resolution.
See More
Learn more about