Post-Tenure Faculty Review and Renewal III: Outcomes and Impact
ISBN: 978-1-882982-90-5
232 pages
October 2005, Jossey-Bass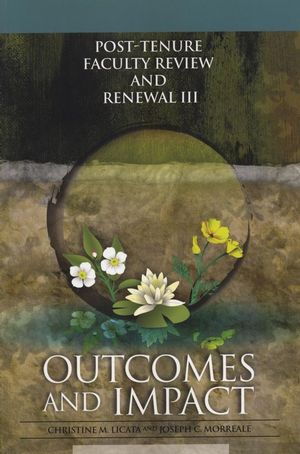 A joint publication from the American Association for Higher Education's New Pathways Project and Anker Publishing Company, this is the final book in a series on review, renewal, and vitality of tenured faculty.
This volume brings together the findings from nine different institutional case studies, including research–oriented and teaching–oriented institutions of varying sizes, and one medical school. The book provides the most comprehensive report on the effectiveness and outcomes of post-tenure review within senior-level institutions as reported by campus faculty and administrators; this is the only national study to date that uses multiple methods of data collection to understand how campuses of differing size, mission, and culture experience the review process and describe its impact.
Contents include
Accountability and faculty performance
Putting post-tenure review into context and practice
Faculty and administrator views about post-tenure review practices: Qualitative findings
A medical school version of post-tenure review
Similarities and differences across institutions: Quantitative findings
Bridging results to practice
How post-tenure review is a lever for organizational change
Considerations for the future
This book and its companion volumes allow practitioners, policymakers, and academic leaders to gain an understanding of the facets and issues associated with successfully conducting programs of post-tenure review.
See More
About The Authors.
Note to Our Readers.
Preface.
Acknowledgments.
Introduction.
1. Accountability and Faculty Performance: The Ties That Bind.
2. Putting Post-Tenure Review Into Context and Practice.
3. Faculty and Administrator Views About Post-tenure Review Practices: Qualititative Findings.
4. A Medical School Version of Post-Tenure review.
5. Similarities and Differences Across Institutions: Quantitative Findings.
6. Bridging results to Practice.
7. Is Post-Tenure Review a Lever for Organizational Change? (Estela Mara Bensimon).
8. Pulling It All Together: Considerations for the Future.
Appendixes.
Appendix A: Research Design, Methodology, and Data Collection.
Appendix B: Institutional  Profiles of Nine Universities.
Appendix C: Interview Protocols and Survey Instrument.
Appendix D: Factor Analysis and Structural Equation Modeling.
See More
CHRISTINE M. LICATA
is associative vice president for academic affairs at the National Technical Institute for the Deaf at Rochester Institute of Technology where she is responsible for curriculum development, program reviews, faculty affairs, institutional support services, research, and faculty development. From 1998-2004, she served as a senior associate with the American Association for Higher Education (AAHE) in its New pathways Project "Academic Careers for the Next Century." Responsibilities at AAHE included leadership and direction for all activities related to post-tenure review, including oversight of a post-tenure review mini-grant program where she worked with 35 institutions on the implementation and refinement of post-tenure review practices. She also directed a nine-campus study on the outcomes and impact of post-tenure evaluation practices on which this volume is based. She has investigated post-tenure evaluation practices since 1984 and authored one of the first national reports on the topic,
Post-Tenure Faculty Evaluation: Threat or Opportunity
? (a 1986 ASHE-ERIC Higher Education Report). During 1998-2001, she worked with the Harvard Project on Faculty Appointments as an adviser and analyst on post-tenure review issues. She is coauthor with Joseph Morreale of
Post-Tenure Review: Policies, Practices, Precautions
(AAHE New pathways Working paper No. 12, 1997) and co-edited with Morreale
Post-Tenure Faculty Review and Renewal: Experienced Voices
(AAHE, 2002) and with Betsy E. Brown
Post-Tenure faculty Review and Renewal II: Reporting Results and Shaping Policy
(AAHE and Anker 2004). Together with Hans A. Andrews, she has studied post-tenure review policies within community colleges and coauthored
The State of Post-Tenure and Long-Term Faculty Evaluation
(American Association of Community Colleges Research Brief, 2002). She has consulted with more than 100 colleges and universities over the past five years and has written and presented extensively on this topic.
JOSEPH C. MORREALE
is provost and vice president for academic affairs at pace University. He has more than 35 years of experience in higher education and is a full professor with tenure in economics and public administration. He was awarded an American council on Education Administrative Fellowship (1995-1996) and was a Harvard Administrative Fellow in the Harvard Summer Institute on Educational Management for senior administrators in the summer of 2000. His publications include four books and numerous articles in scholarly journals. Dr. Morreale has been the keynote speaker at a number of conferences and has presented several papers at the national meetings of such organizations as the American Association for Higher Education (AAHE), the Association to
Advance
Collegiate
Schools
of Business (AACSB), the American Council on Education (ACE), and the Coalition of urban and Metropolitan Universities (CUMU). As an AHHE senior scholar for the past six years, he is recognized nationally for leadership in higher education administration and has published on post-tenure review, faculty development, and senior faculty renewal.
See More
Learn more about