The Sista' Network: African-American Women Faculty Successfully Negotiating the Road to Tenure
ISBN: 978-1-882982-92-9
164 pages
January 2006, Jossey-Bass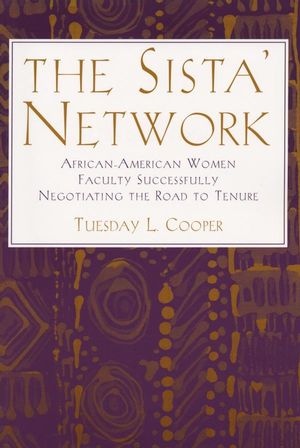 The "Sista' Network""is a term used to describe the relationships between and among professional African-American women which enable them to assist one another in learning the unwritten rules and protocols of various professions. In the context of higher education, the Sista' Network can help new African-American women faculty learn the rules to "the Tenure Game."
A qualitative inquiry into the lives and experiences of nine African-American women during various stages of the tenure process, this book partly explores general, practical considerations such as the tenure process; requirements for tenure; and negotiating the balance among teaching, research, service, and collegiality. Yet it delves further into the statistics of African-American women faculty in the academy; issues of isolation, mentoring, and networking; African-American women faculty and the tenure process; African-American feminist thought; and racism, sexism, and the politics of singularity.
Also included are 12 guiding principles for new African-American women faculty members embarking upon the tenure process. Carefully weaving African-American feminist thought with the literature on academic tenure and minority along with stories of women faculty's experiences in the academy, the author creates an effective and engaging account for minority women embarking on the tenure journey themselves.
See More
About the Author.
Preface.
Acknowledgments.
1. Introduction:The Challenges of African-American Women Faculty.
2. Tenure.
The Tenure Process.
Requirements for Tenure.
3. African-American Women Faculty in the Academy.
The Statistics.
Isolation, Mentoring, and Networking.
The Tenure Process.
African-American Feminist Thought.
4. The Research Results.
The Methodology and Structure.
A Roundtable Discussion.
The Tenure Process.
Collegiality.
Service and Mentoring.
Isolation.
Networking.
Highlights and Lessons Learned.
5. The Game of Tenure.
Learning the Rules of the Tenure Game.
Negotiating the Balance Among Teaching, Research, and Service.
Collegiality as the Fourth Category of the Tenure Process.
Finding a Mentor.
The Trilogy: Racism, Sexism, and the Politics of Singularity.
The Sista' Network.
Guiding Principles for African-American Women Faculty.
6. Conclusion: Six Years Later.
Appendix A: Research Design and Methods.
Appendix B: Sample Interview Questions.
Bibliography.
Index.
See More
TUESDAY L. COOPER is associate dean of the school of Education/Professional Studies and Graduate Division at Eastern Connecticut State University. Before joining Eastern in August 2003, she served on the faculty at Springfield College. She holds a Doctorate of Education from the University of Massachusetts Amherst, a law degree from Western New England College School of Law, and a Bachelors of Science in political science from Rutgers, The State University of New Jersey. In 2001, she was awarded a Connecticut Community Technical Colleges' Board of Trustees Minority Administrative Fellows position with Asnuntuck Community College. In addition, she has been awarded the American Association for Higher Education's Nellie Mae Scholarship and the University of Massachusetts at Amherst Teaching and Learning in the Diverse Classroom Fellowship.
Dr. Cooper is coauthor of Diversity on Campus with David Schuman and Carolyn M. Pillow (2004, Kendall/Hunt). Her research interests include tenure, faculty and department chair development, education law, civil rights law, and Critical Race Theory. She is a member of the Professional and Organizational Development Network in Higher Education.
See More
Learn more about