Credit Union Investment Management
ISBN: 978-1-883249-13-7
249 pages
January 1997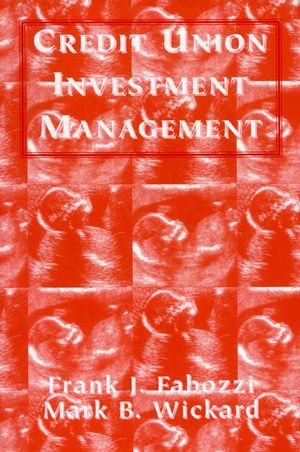 Credit Union Investment Management provides an in-depth examination of the methods executives use to achieve investment objectives and maximize returns on invested capital, while measuring and minimizing risk. Complete coverage includes: detailed features of investment vehicles, yield measures and their limitations, total return analysis, and stress testing.
See More
Preface.

1. Introduction.

2. Features of Investment Vehicles.

3. Money Market Instruments.

4. Bonds and Other Non-Mortgage-Related Products.

5. Mortgage Passthrough Securities.

6. Collateralized Mortgage Obligations.

7. Prepayment Models and CMO Testing.

8. Valuation of Fixed Income Securities.

9. Yield Measures and Their Limitations.

10. Meauring Interest Rate Risk.

11. Total Return Analysis and Stress Testing.

12. Overview of Investment Strategies.

Appendix: Time Value of Money.

Index.
See More
Frank J. Fabozzi is a financial consultant, the editor of the Journal of Portfolio Management, and Adjunct Professor of Finance at Yale University's School of Management.
Mark Wickard is Senior Vice President (Investments) at PaineWebber Credit Union Services Group.
See More
More in this series