Valuation of Interest-Sensitive Financial Instruments: SOA Monograph M-FI96-1
ISBN: 978-1-883249-15-1
155 pages
November 1996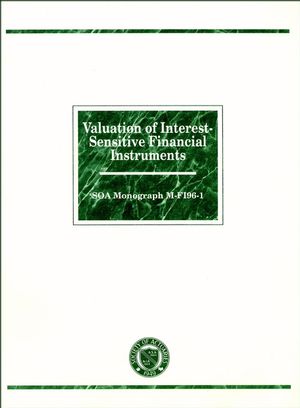 Valuations of Interest-Sensitive Financial Instruments provides in-depth analysis of the development and underpinnings of models that are essential to the financial analyst or valuation actuary. Complete coverage includes: spot and forward interest rates, discrete- and continuous-time one-factor models, multi-factor discrete- and continuous-time models, and simulation approaches.
See More
Preface.

Acknowledgments.

1. Spot Interest Rates, Forward Interest Rates, Short Rate, and Yield-to-Maturity.

2. An Introduction to Valuation of Fixed and Interest-Sensitive Cash Flow.

3. Discrete-Time One-Factor Models.

4. Continuous-Time One-Factor Models.

5. Solution Approaches to Single-Factor Models.

6. Multi-Factor Continuous-Time Models.

7. Multi-Factor Discrete-Time Models.

8. Simulation Approaches.

Bibliography.

Solution to Practice Exercises.

Index.
See More
David F. Babbel is a professor at the Wharton School at the University of Pennsylvania, a financial consultant for several large insurance companies. He has published prolifically in the academic and professional literature on asset/liability management, insurance, and fixed income investments.
Craig B. Merrill is Associate Professor at Brigham Young University and the Grant Taggart Fellow of Insurance, Risk Management, and Financial Services.
See More
More in this series