Textbook
The Biology of Mind: Origins and Structures of Mind, Brain, and Consciousness
ISBN: 978-1-891786-07-5
376 pages
June 1999, ©1999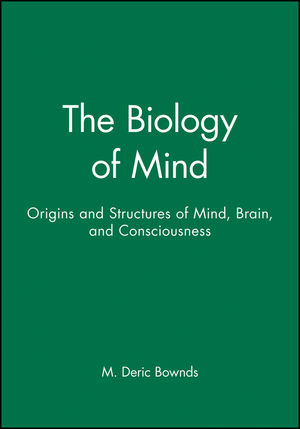 This new book makes state-of-the-art research on the human mind accessible and exciting for a wide variety of readers. It covers the evolution of mind, examines the transitions from primate through early hominid to modern human intelligence, and reviews modern experimental studies of the brain structures and mechanisms that underlie vision, emotions, language, memory, and learning.
See More
Preface.

Chapter 1. Thinking about Thinking.

PART I: EVOLVING MIND.

Chapter 2. Origins of Mind.

Chapter 3. Structures of Mind.

Chapter 4. Primate Mind.

Chapter 5. Hominid Mind.

PART II: DEVELOPING MIND.

Chapter 6. Plastic Mind.

Chapter 7. Minds and Selves.

PART III: SOCIETY OF MIND.

Chapter 8. Perceiving Mind.

Chapter 9. Acting Mind.

Chapter 10. Emotional Mind.

Chapter 11. Linguistic Mind.

PART IV: MODERN MIND.

Chapter 12. Conscious Mind.

Chapter 13. Theoretic Mind.

Glossary.

Index.
See More
M. Deric Bownds, Ph.D. is Professor of Molecular Biology and Zoology and Chair of the Department of Zoology at the University of Wisconsin, Madison. Since receiving his graduate and post-doctoral education at Harvard he has spent 30 years at Wisconsin conducting a highly regarded research program on the molecular basis of vision. This book grew out of a popular undergraduate course on the Madison campus and the author's public lectures on these topics.
See More