Textbook
University Planning for Canadians for Dummies
ISBN: 978-1-894413-31-2
450 pages
August 2001, ©2001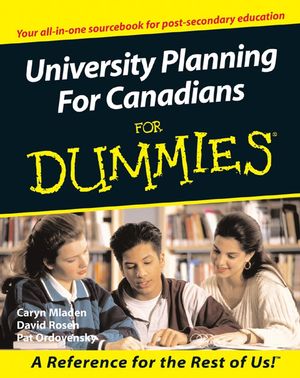 Includes a directory of Canadian universities and colleges.
Let this book take you straight to the head of the class.
Heading off to university is serious business, but you'll make all the right moves with the help of this friendly, straightforward guide. From finding the best schools for you, to applying and gaining admission, the book also includes foolproof financial strategies to help parents shoulder the cost of post-secondary education.
Discover how to:
Prepare for university in high school
Research universities and colleges online
Get the most out of your campus visits
Save money for university ahead of time
Pay for your education without going broke
Live life at university to the fullest
See More
Introduction

About This Book
How to Use This Book
Who Are You, Anyway?
Who Should Read This Book?
Elementary students
Grade 9 students
High school students
Mom and Dad
Grandparents
Adults thinking about university
Anyone accepted to university
Who Should Not Read This Book
Anyone with a Ph.D.
Anyone who works at a university
How This Book Is Organized
Part I: Crack Open the Book: Getting Ready for University
Part II: Start Taking Notes: Finding the Right Universities
Part III: Crunch Time: Getting into University
Part IV: Please Report to the Financial Aid Office: Paying for University
Part V: Dotting the "i"s and Crossing the "t"s: The Final Details
Part VI: The Part of Tens
Part VII: Appendixes
Icons and Conventions Used in This Book
Where to Go from Here
Part I: Crack Open the Book: Getting Ready for University
Chapter 1: What You Need to Know about University
What Is a University?
Universities, colleges, and institutes
Public universities and private universities
Canadian universities and American colleges
Open-admission universities
Universities in other countries
Is University for You?
University Is for Me— Now What?
Can you get in?
Can you afford it?
Which university is for you?
What is university life really like?
Where to Go First: Information Sources
Counsellors
Teachers
Friends and family
University literature
Directories
Web sites
Computer programs
What If You're Older?
Chapter 2: Planning 101
Read This Book in Grade 4
If You're Not in Grade 4, Just Read Faster
If You're Out of High School
Beginner Level: What to Do Early On
Stay awake in grade 4 math
Unplug the TV
Empower yourself for two hours
Take the toughest courses
Get a job
Be exceptional
Intermediate Level: Decisions You Need to Make
Stay or leave home?
Large or small campus?
Big city or university town?
What do you want to major in?
Where do you want to live?
With whom do you want to live?
Advanced Level: Life Planning
Studying what you're good at or what you love
Investigating your chosen career
Investigating the job market
Looking forward to graduate school
Don't Sweat It
Money Is Not Important— Yet
Early Steps to Get More University Money
What you can do
What your parents can do
What everyone else can do
Chapter 3: Big Changes in Canadian Schools
More Competition for Spaces
Ontario's double cohort
Population growth across Canada
More mature students
Are you as prepared as you can be?
Some Technical Schools Are Becoming Universities
Community Colleges Are Becoming Mainstream
Blending a Degree with a Diploma or a Certificate
Private Universities: Coming Soon to an Application Near You
Chapter 4: Big Options for You
Taking a Year Off Before University
Deferring Your Acceptance
Going Abroad: International Universities
Going American
Going farther away
Coming to Canada: Canadian Universities for International Students
Going Back to School: What Mature Students Need to Know
Professional resasons for becoming a mature student
Personal reasons for becoming a mature student
Easing back into it
Part II: Start Taking Notes: Finding the Right Universities
Chapter 5: What You're Doing (and Not Doing)
You're Looking for Places Where You Can Thrive
You're Making Lists
You're Checking Personalities
You're Looking for Universities
Why You're Not Choosing a University
Someone else likes the university
The university has prestige
The university is tough to get into
Your parents want you to go to the university
The university ranks high in magazines and newspapers
Chapter 6: Grade 9: Starting Early
Start Your University Applications File
Universities Look at Your Entire High School Career
Take the Tougher Courses
Tougher courses increase your odds
Tougher courses prepare your mind
Don't Drop English or Math
Prepare for Your Major
Setting goals
Choosing courses
No one said you have to be exclusive
Start Your Mull List
Chapter 7: Grades 10 and 11: Starting Later
Take the Right Courses
Refine Your List of Universities
Consider this
Talk their ears off
Get more information
Refine Your List of Majors
Figuring out what you really like
This doesn't mean your decision is made
What You're Not Worrying About
Money
Selectivity
The Final Cut
Chapter 8: Researching Online
Get Ready for Your (Virtual) Trip
Where to Go First
How to Read University Web Sites
Navigating the site
Some things to look for online
Too good to be true?
What Else Is Out There: Unofficial Sites
Finding Money Online
Money from the university
Money from the government
Organizing Your Information
Keeping track of your digital details
The paper trail: Expanding your University Applications File
Communication: More Than an Art, It's a Necessity!
Chapter 9: Getting the Feel of a Campus
You Won't Know Until You Go
Personality Check: A Reprise
Set Your Visit in Spring or Fall
Do Mom and Dad Really Have to Come Along?
Cover the Four Essentials
The admissions office
The financial aid office
The students
The overnight stay
You Can Do Even More
Visit a professor
Audit classes
Read the student newspaper
Add It to Your File
All Around Town
Hunting Down Housing
Life in residence
Life off-campus
Life on the home front
If You're a Mature Student
Don't Drop the Ball
What If You Don't Visit the Campus?
Part III: Crunch Time: Getting into University
Chapter 10: How Universities Look at You
What Universities Are Really Looking For
Marks, marks, marks
Students who do more than just study
What Universities Don't Judge You On
Your class rank
Your high school's rank
Your test scores
When a Great Recommendation Counts
Avoid a bad one
Get a good one
Yes, We Know You're Special, But Will Universities Think So?
Summing Up
Chapter 11: Grade 12: Making It Happen
Step 1: Getting Ready to Apply
How many applications?
Go for the reach
Everyone needs a safety net
Looking forward to graduate school
Step 2: When and How to Apply
The early bird gets the worm, er, edge
What a break! A common application
Applying online
Step 3: Anatomy of an Application
Vital statistics
Program selections
High school attendance
Past college/university attendance
Residence and special needs
Payment
Other stuff
Declaration
Step 4: Padding Your Application (Umm...Sending Additional Materials)
Awards
Jobs, achievements, and talents
Explanations
Step 5: Considering Your Special Circumstances
Applying from another province
Applying from another country
TOEFL: The real English test
Applying later in life
Step 6: Silly Mistakes That Are Easy to Make
What does that say?
The big blank space
Make sure your information is accurate
Get rid of typos
The mysteriously changing name
Just give the answer, already
Get it there on time
Step 7: Signed, Sealed, and Delivered
Make a copy
The wait
Part IV: Please Report to the Financial Aid Office: Paying for University
Chapter 12: Shake Off the Sticker Shock (Remember, It Costs More in the U.S.!)
How Much Do You Need?
Tuition: Different Universities Charge Different Amounts
What if you are from another province?
What if you are from another country?
What if you have First Nations status?
Other University Fees
Student association fees
Medical and health fees
Athletic or college fees
Lab fees
Miscellaneous fees
Books
Tools of the trade
The Cost of Living
Housing
Food
More Costs of Living
Transportation
Embellishments
Putting It All Together
Financial Aid: The Basics
Are those horror stories and myths for real?
Tax credits to the rescue
Don't forget to plan
Chapter 13: Long-term Planning (Parents, Read This!)
Planning Is Key
Figuring Out How Much You Will Need
How much is tuition increasing?
How much is the cost of living increasing?
Settling on How Much You Should Save
Mull over these numbers
A work-free income source
Your Financing Options
Can't I get more if I have less?
So many ways to save, so little time, it seems
RESPs: Your Best Option
How are RESPs administered?
How much will the RESP earn?
What if I decide to discontinue the RESP?
Can I extract my money from the RESP if my child doesn't go to university?
Working it all out
Borrowing
Juggling for Money
Put your money in the right place, in the right name
Say "no thanks" to gifts
Teach
Get some good advice
Chapter 14: Getting Financial Aid
What Is Financial Aid?
Busaries, Grants, and Loans— Oh My!
Bursaries and Grants
Student Loans
Federal and provincial student loans
Loans from the university
Bank loans
Personal loans
Applyng for a Government-Sponsored Student Loan
Who can apply?
How do the financial aid officers decide how much I'm eligible for?
Filling Out the Application Form
First things first
Personal information
Current status information
Residency
Previous post-secondary studies
Applicant's children
Next of kin in Canada
Financial data
Intended institution and course of study
Information from partner
Consent to release personal information
Information from parents
Other programs
Declarations, consents, and signatures
Application fee
Supporting documentation
Getting the Money
Repaying Your Loan (the Part Everyone Forgets)
Chapter 15: Winning Scholarships
Good News! Lots of Money Is Available
Scholarships from Universities
Entrance scholarships
Other university scholarships
Government Scholarships
Private Scholarships
Applying for Scholarships
When should you apply?
How do you apply?
Chapter 16: Working Your Way through University
I'm about as Co-Operative as the Next Guy...Co-op Programs Explained
What do co-op programs offer?
How much money do they pay me?
Are the placements guaranteed?
What do you mean I have to pay a fee?
I thought they would pay me!
Join the Military, See the World, Earn Your Degree
How does this work?
How long do I have to serve after I get my degree?
Not that I'm considering it, but how can I get out of my commitment?
Can I go to RMC and not serve in the military?
How do I apply?
Do they have to take me?
What's life in the Forces like?
How will I be viewed when I get out?
Chapter 17: International Universities
Why Go Away (Far Away) to School?
Where Do You Start?
What You Need to Get Accepted to an International University
Student Visas and Work Permits
Welcome to America
Information sources
Can you get in?
Can We See You SAT I Scores, Please?
What is the SAT I and why do I have to take it?
What abilities does the SAT I test?
What do my SAT I scores tell admissions officers about me?
Does the SAT I really show how well I'll do in college?
How can I register for the SAT I, when can I take it, and how much does it cost?
How Much of the Green Stuff Do You Need?
Some financial aid is available
Additional U.S. financial aid resources

Chapter 18: Staying Out of Debt
People Don't Plan to Fail, They Fail to Plan
Save early, save often
Budgeting 101: Your First Course
That's not all it costs
It costs even more if you go abroad
Building Your Budget
Getting a Part-time Job
The trade-off: Higher marks versus more money
The other trade-off: Earned money versus more aid money
Getting a Summer Job
A Last Look at Co-op Education
Part V: Dotting the "i"s and Crossing the "t"s: The Final Details
Chapter 19: Congratulations, You're Accepted! Now What?
Now the Fun Begins
The News Starts to Arrive
The safety net works
You're not Top-choice's top choice
One you didn't make
At last! Hooray!
But what about Top-choice?
The Missing Piece
When you hear about financial aid
Why the financial aid offers don't always come with admissions offers
Revisit Your Choices
The Waiting List
What Waiting List means
Why they use the Waiting List
The Deposit Dilemma
Wait for the Other Shoe
What If You Didn't Get into Your First Choice?
Take stock of yourself
Take stock of your academic situation
What If You Didn't Get In, Period?
Putting It All Together
Chapter 20: Before You Go
Step Back and Rethink Everything
Breathe in, breathe out, repeat
Re-evaluating the schools
Re-evaluating the program
Re-evaluating the money offers
Your Options
Deciding not to go
Deferring your acceptance
Transferring credits
Feeling Good about Your Final Choice
Part VI: The Part of Tens
Chapter 21: Ten Reasons to Go to University
Qualifying for Graduate or Professional Studies
Landing a Job
Earning a Higher Salary
Landing That Senior Position
The Prestige Factor
Changing Careers
University Degrees Travel
Learning to Think
Having Fun
Being Happier
Chapter 22: Ten Reasons Why Colleges and Institutions Are Worth a Look
Employment
Specialized Curriculum
It Take Less Time
It's the Top School in Your Field
Hands-on Learning Style
Faculty
Smaller Classes
Individual Attention
Getting In Is (Often) Easier
Greater Selection
Chapter 23: Ten Questions to Ask about a University
Does My Personality Match the University's?
Can I Really Get In, Or Am I a Long Shot?
Is This the Right Place for What I Want to Study?
Can I Live on Campus? If Not, Where?
How Large (or Small) Are Classes?
Who Teaches the Classes?
Is There an Effective Advisor Program?
How Often Can I Get Home?
How Safe Is the Campus?
What Are My Prospects after University?

Chapter 24: Ten Big Mistakes in University Planning
Believing You Have to Go to University— and That You Have to Go There Right Away
Applying to a University You Haven't Seen Up Close and Personal
Thinking That Canadian Schools Are Just Like American Schools
Ruling Out Going to University Because You Can't Afford It
Lying on Your Application
Missing Deadlines
Submitting a Messy or Incomplete Application
Sending Just the Application
Choosing a University for Its Reputation Alone
Putting Parent in Charge

Part VII: Appendixes
Appendix A: Directory of Universities and Colleges
Size of Institution
Admissions
Tuition Fees
Residence Costs
Things Change
Canadian Universities
Canadian Colleges and Technical Institutions
Appendix B: Money Sources
Government Programs and Loans
Group RESP Foundations
Banks
Scholarships
Foundations and Granting Councils
Appendix C: Useful Web Sites
General Information
Colleges
Open-Admission Universities
Applications
First Nations Students
International Students
English-Language Proficiency Tests
Student Organizations

Appendix D: The Mull List
Questions to Ask Before Applying to a University
Glossary
Index
See More
Caryn Mladen and David Rosen are business consultants and educators, and authors of Making Money with Multimedia and The Canadian Computer Handbook. Pat Ordovensky was an education writer for USA Today.
See More