Learning Autodesk Maya 2010: Foundation
ISBN: 978-1-897177-55-6
640 pages
August 2009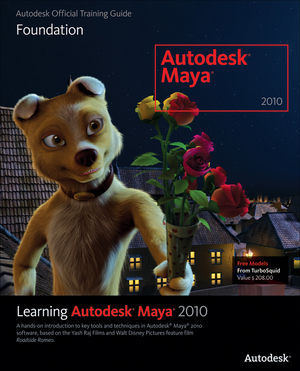 New coverage, art, and tutorials of the latest features of the new Maya 2010
Maya is the industry-leading 3D animation and effects software used in movies, special effects, games, cartoons, short films, commercials, etc. Complex and difficult to learn, the new Maya 2010 features updates to modeling, animation, dynamics, and rendering modules. This invaluable book offers hands-on introduction to the tools and techniques of this fascinating software.
Boasting full-color coverage and detailed, step-by-step lessons, the book uses real movie footage from the Yash Raj Films and Walt Disney Pictures feature film Roadside Romeo. You'll learn the Maya interface and basics of modeling, texturing, animating, and visual effects while the DVD provides further reinforcement with its instructor-led tutorial videos.
Tackle the latest version of the wildly popular and complex animation and effects software: Maya 2010
Learn to work in 3D space, build a character with polygons, and create and apply shaders and textures
Explore particles and dynamics, apply forward and inverse kinematics, and set cameras and lights
Discover how to use MEL (Maya Embedded Language) and explore rendering techniques
The DVD includes clips from Roadside Romeo, as well as artist interviews and training videos
Get animated and start working with Maya today!
See More
Understanding Maya.
Project 01.
Lesson 01 Primitive.
Lesson 02 Adding Details.
Lesson 03 Shaders and Textures.
Lesson 04 Animation Basics.
Lesson 05 Working with Maya.
Lesson 06 The Dependency Graph.
Project 02.
Lesson 07 Polygonal Modeling.
Lesson 08 Polygonal Texturing.
Lesson 09 Skeleton.
Lesson 10 Skinning.
Lesson 11 Blend Shapes.
Lesson 12 Inverse Kinematics.
Lesson 13 Rigging.
Lesson 14 Animation.
Project 03.
Lesson 15 NURBS Modeling.
Lesson 16 NURBS Texturing.
Lesson 17 Rigging.
Lesson 18 Paint Effects.
Lesson 19 Deformers.
Lesson 20 Lights and Effects.
Lesson 21 Rendering.
Project 04.
Lesson 22 More Animation.
Lesson 23 Non Linear Animation.
Lesson 24 Rigid Bodies.
Lesson 25 Motion Path.
Lesson 26 Particles.
Lesson 27 MEL Scripting.
Project 05.
Lesson 28 Render Layers and Render Passes.
Lesson 29 Toxik.
Index.
See More
Learn more about