Visual Impairment in Children due to Damage to the Brain
ISBN: 978-1-898683-86-5
224 pages
September 2010, Wiley-Blackwell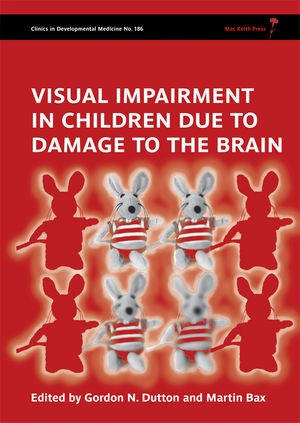 Clinics in Developmental Medicine No.186
The increased awareness of cerebral visual impairment in children, combined with improved recognition of its wide ranging manifestations, has led to its recognition as the most common cause of visual impairment in children in the developed world. Yet the subject is in its infancy, with very little published to date. Information on this complex topic has been needed by all disciplines working with disabled children for many years.
This ambitious book links the work of authors from many of the major research teams in this field, who have made significant contributions to the literature on the subject of cerebral visual impairment and provide a structured amalgam of the viewpoints of different specialists.  The book contains some very novel concepts, which will be of great practical value to those who care for children with visual impairment due to brain injury. Summaries of the more specialist chapters as well as clear diagrams and a glossary have been provided to increase the book's accessibility to a broader readership.
This is an exciting and important field, to which this book makes a major contribution.
See More
Foreword (
Richard Gregory
).
Introduction (Martin Bax & Gordon Dutton).
SECTION 1 THE VISUAL BRAIN, AND THE CAUSES & IMAGING OF CEREBRAL PATHOLOGY AFFECTING VISION.
Chapter 1 The functional organization of the central visual pathways.
1 The Functional Organization of the Central Visual Pathways (Mel Goodale).
Chapter 2 Causes of damage to the visual brain.
2.1 Common aetiologies of cerebral visual impairment (Janet Soul & Carey Matsuba).
2.2 Visual dysfunction and ocular findings associated with white matter damage of immaturity (Lena Jacobson & Olof Flodmark).
2.3 Visual dysfunction associated with hydrocephalus (Susann Andersson).
Chapter 3 Diagnostic imaging of damage to the visual brain.
3.1 Imaging of disorders affecting the visual brain (Olof Flodmark & Lena Jacobson).
3.2 Correlation between imaging and early visual development (Eugenio Mercuri, Andrea Guzzetta, Daniela Ricci and Giovanni Cioni).
SECTION 2 VISUAL PROBLEMS RESULTING FROM DAMAGE TO THE VISUAL BRAIN.
Chapter 4 Impairment of central visual function and its measurement (William B Good & Anne B Fulton).
Chapter 5 Impairment of peripheral vision and its measurement (Giorgio Porro & Dienke Wittebol-Post).
Chapter 6 bnormalities of refraction and accommodation and their management (J Margaret Woodhouse).
Chapter 7 Clinical features of perceptual and cognitive visual impairment in children with brain damage of early onset (Gordon N Dutton, with Elisabeth Macdonald, Suzannah R Drummond, and Shohista Saidkasimova).
Chapter 8 Impairment of cognitive vision: its detection and measurement.
8.1 Structured clinical history taking for cognitive and perceptual visual dysfunction and for profound visual disabilities due to damage to the brain in children (Gordon N Dutton, with Julie Calvert, Hussein Ibrahim, Elisabeth Macdonald, Daphne L McCulloch, Catriona Macintyre-Beon, and Kathy Spowart).
8.2 Objective behavioural and electrophysiological measures for assessing visual brain function in infants and young children (Janette Atkinson and Oliver Braddick).
8.3 Psychometric evaluation of higher visual disorders: strategies for clinical settings (Peter Stiers & Elisa Fazzi).
Chapter 9 The effect of impaired vision on development (Eliza Fazzi).
Chapter 10 Psychiatric considerations in cerebral visual impairment (Roger Freeman).
SECTION 3 DISORDERS COMMONLY ACCOMPANIED BY CEREBRAL VISUAL IMPAIRMENT.
Chapter 11 Children with severe brain damage: functional assessment for diagnosis and intervention (Alison Salt, Naomi Dale & Jenefer Sargent).
Chapter 12 Visual impairment in cerebral palsy (Eliza Fazzi).
Chapter 13 Children with intellectual disabilities and cerebral visual impairment: problems with detection and diagnosis (Heleen Evenhuis).
SECTION 4 HELPING CHILDREN WITH CEREBRAL VISUAL IMPAIRMENT.
Chapter 14 Approaches to deal with visual problems due to cerebral visual impairment.
14.1 The principles (Gordon N Dutton, with Debbie Cockburn, Gillian McDaid, and Elisabeth Macdonald).
14.2 Strategies to support the development and learning of children with CVI at home and at school: Communication and Orientation and Mobility (Marianna Buultjens, Lea Hyvärinen, Renate Walthes, Gordon N Dutton).
14.3 Strategies to support the development and learning of children with cerebral visual impairment, at home and at school: Sustained Visual Work and Activities of Daily Living (ADL) (Lea Hyvarinen, Renate Walthes, Marianna Buultjens).
Chapter 15 Strategies to help children who have both visual and hearing impairments (Stuart Aitken).
Chapter 16 Setting up integrated services for children with cerebral visual impairment (Margot Campbell & Marianna Buultjens).
SECTION 5 CLASSIFICATION OF CEREBRAL VISUAL IMPAIRMENT.
Chapter 17 Classification of visual functioning and disability in children with visual processing disorders due to cerebral visual impairment (Lea Hyvarinen).
Chapter 18: Towards the Development of a Classification of Vision-related Functioning – A Framework (August Colenbrander).
See More
"The book contains some very novel concepts, which will be of great practical value to those who care for children with visual impairment due to brain injury" (Breitbart.com: Business Wire, 16 February 2011)
"this text is a much needed seminal contribution to the growing awareness and knowledge about the number one cause of pediatric vision loss in developed countries. The availability of such diverse amount of compiled research and information in a single publication makes it a valuable and necessary contribution to professional libraries." (Journal of Visual Impairment & Blindness, April 2011)
See More