Alcohol, Drugs and Medication in Pregnancy: The Long-Term Outcome for the Child
ISBN: 978-1-898683-88-9
256 pages
February 2011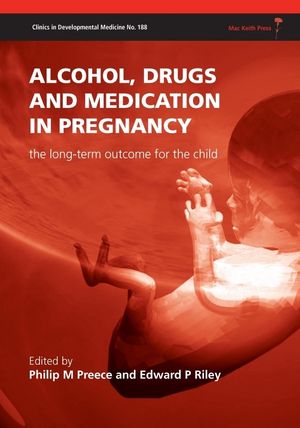 Clinics in Developmental Medicine No. 188
This book documents the consequences of the exposure of infants to the influence of intrauterine chemicals. In setting out the evidence for these outcomes, the authors demonstrate that decisions about care and management can and should be made as early as possible. This should allow professionals to provide protective management and prevent the delays that are so often seen in this area of medical and social care.
The international team of contributors sets out to inform the reader of the potential risks to infants exposed to a range of intrauterine chemicals that are potentially neuroactive, including medicinal drugs such as antiepileptics, antidepressants and antipsychotics, as well as drugs of abuse, including alcohol, opiates, and recreational drugs such as cannabis and tobacco. They review the teratogenic action of some of the chemical processes and the relationship of exposure to the stage of pregnancy. Some agents alter anatomic structure; others alter the chemical balance of neurotransmitters and may thus alter the regulation of brain function, with profound effects on the child's behaviour and propensity to behavioural disturbances. The book explores strategies to support these children and those who care for them, including statutory agencies.
Readership
Paediatricians, neonatologists, obstetricians, gynaecologists, child and adolescent psychiatrists and psychologists, those working in child care and child protection.
See More
AUTHORS' APPOINTMENTS vii
1. INTRODUCTION 1
Philip M Preece
SECTION 1. NEUROTERATOGENESIS – EPIDEMIOLOGY AND PATHOLOGY
2. EPIDEMIOLOGY OF DRUG AND ALCOHOL USE DURING PREGNANCY 11
Ron Gray
3. NORMAL AND ABNORMAL EMBRYOGENESIS OF THE MAMMALIAN BRAIN 23
Kathy K Sulik, Shonagh K O'Leary-Moore, Elizabeth A Godin and Scott E Parnell
SECTION 2. LONG-TERM EFFECTS OF MAJOR PRESCRIBED MEDICATIONS
4. EPILEPSY IN PREGNANCY AND THE EFFECT OF PRENATAL ANTIEPILEPTIC MEDICATION 44
Jill Clayton-Smith and Gus Baker
5. NEURODEVELOPMENT OF CHILDREN EXPOSED TO ANTIDEPRESSANT AND ANTIPSYCHOTIC MEDICATIONS DURING PREGNANCY 56
Irene Nulman, Sara Citron, Michelle Todorow and Elizabeth Uleryk
SECTION 3. LONG-TERM EFFECTS OF DRUGS OF ABUSE
6. DIAGNOSIS OF FETAL ALCOHOL SYNDROME: EMPHASIS ON EARLY DETECTION 85
Margaret Barrow and Edward P Riley
7. THE EFFECTS OF PRENATAL ALCOHOL EXPOSURE ON BRAIN AND BEHAVIOUR 108
Christie L McGee Petrenko and Edward P Riley
8. EFFECT OF DRUGS OF ABUSE ON THE FETUS: COCAINE AND OPIATES INCLUDING HEROIN 130
Lynn T Singer and Sonia Minnes
9. CANNABIS USE DURING PREGNANCY: ITS EFFECTS ON OFFSPRING FROM BIRTH TO YOUNG ADULTHOOD 153
Peter A Fried
10. IN UTERO EXPOSURE TO THE POPULAR 'RECREATIONAL' DRUGS MDMA (ECSTASY) AND METHAMPHETAMINE (ICE, CRYSTAL): PRELIMINARY FINDINGS 169
Derek G Moore, John J D Turner, Julia E Goodwin, Sarah E Fulton, Lynn T Singer and Andrew C Parrott
11. THE SHORT-TERM AND LONG-TERM DEVELOPMENTAL CONSEQUENCES OF MATERNAL SMOKING DURING PREGNANCY 183
Kate E Pickett and Lauren S Wakschlag
SECTION 4. INTERVENTION STRATEGIES TO REDUCE THE IMPACT OF DRUGS AND ALCOHOL IN PREGNANCY
12. MANAGEMENT OF THE EFFECTS OF PRENATAL DRUGS IN CHILDREN OF DRUG-ABUSING PARENTS 197
Faye Macrory and Michael Murphy
13. PRENATAL AND POSTNATAL INTERVENTION STRATEGIES FOR ALCOHOL-ABUSING MOTHERS IN PREGNANCY 217
Ann P Streissguth and Therese M Grant
14. COGNITIVE AND BEHAVIOURAL INTERVENTIONS TO AMELIORATE THE EFFECTS OF FETAL ALCOHOL SPECTRUM DISORDERS IN CHILDREN AND ADOLESCENTS: PROMOTING POSITIVE OUTCOMES 234
Wendy O Kalberg and Julie Gelo
15. FETAL TERATOGEN SYNDROMES: PSYCHIATRIC ASPECTS AND MANAGEMENT 252
David J Bramble and Raja A S Mukherjee
16. RECOMMENDED MANAGEMENT OF COMMON MEDICAL PROBLEMS IN PREGNANCY: ADVICE FROM SPECIALIST AGENCIES 271
Evelyne Jacqz-Aigrain and Philip M Preece
INDEX 280
COLOUR PLATE SECTION
See More
Philip Preece
is a consultant paediatrician with training in neurodisability. He manages a range of children with autism spectrum disorders, attention-deficit hyperactivity disorder, and learning difficulties. He has developed an interest in the outcome of infants exposed to prenatal drugs, both medicinal and recreational, as part of his work assessing children prior to adoption.
Ed Riley served as Chair of the National Task Force on Fetal Alcohol Syndrome/Fetal Alcohol Effect. He currently serves as the Steering Committee Co-Chair of the Fetal Alcohol Spectrum Disorders Center for Excellence. He has been President of the Research Society on Alcohol, the Fetal Alcohol Study Group, and the Behavioral Teratology Society. He has served as Associate Editor of the Journal of Studies on Alcohol, and is on the Editorial Boards of Alcoholism: Clinical and Experimental Research and the Psychological Record. He has received numerous awards for his scholarship and service, most recently the Research Society on Alcoholism Distinguished Researcher Award.
See More
More in this series