Free-Space Optics: Propagation and Communication
ISBN: 978-1-905209-02-6
219 pages
February 2006, Wiley-ISTE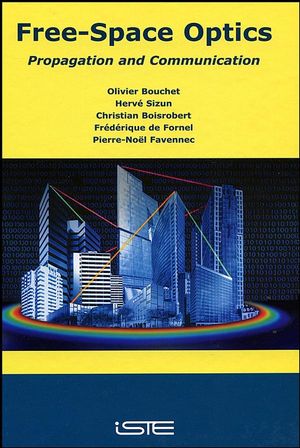 Free space optics is a telecommunications technique which is already being used for everyday exchange of information and has many advantages over other techniques (bandwidth, low cost, mobility of the equipment, security, etc.); within the next decade, it is likely to become an integral and essential part of data-processing architectures and telecommunications.
A history of wireless optical telecommunications is given, together with a recapitulation of the application of the principles of electromagnetism to free-space optics. Coverage is also given to the transmitters and receivers of optical beams, whih are the basis of any optical communication system. These devices were responsible for the first truly significant advances in the performance of these systems.
Special attention is given to the problems associated with the propagation of photons, both in the presence and absence of obstacles, since these are key issues in gaining an understanding of future telecommunication systems based on wireless optics. Finally, the authors considwer standards, as well as safety and confidentiality issues.
See More
Introduction.
Chapter 1. History of Optical Telecommunications.
1.1 Some Definitions.
1.2 The Prehistory of Telecommunications.
1.3 The Optical Air Telegraph.
1.4 The Code.
1.5 The Optical Telegraph.
1.6 The heliograph or solar telegraph: A portable Telecommunication System.
1.7 Alexander Graham Bell's Photophone.
Chapter 2. Basic Principles of Electromagnetism.
2.1 Introduction.
2.2 Maxwell's Equations in an Unspecified Medium.
2.3 Propagation of Electromagnetic Waves in an Isotropic and Linear Homogeneous Medium.
2.4 Energy Associated with a Wave.
2.5 Propagation of a Wave in a Non-Homgeneous Medium.
2.6 Coherent and Incoherent Waves.
2.7 Relations Between Classical Electromagnetism and Geometrical Optics.
2.8 The Electromagnetic Spectrum.
2.9 Units and Scales.
2.10 Examples of Sources in the visible Light and Near Visible Light.
2.11 Conclusion.
Chapter 3. Emission and Reception of Optical Beams.
3.1 Forewors.
3.2 Introduction.
3.3 Radiometry: Basic Concepts.
3.4 Optical Spectral Windows, Materials and Eye-safety.
3.5 Transmitters.
3.6 Photodetectors.
Chapter 4. Line of Sight Propagation.
4.1 Influence of the Propagation Environment.
4.2 Visibility.
4.3 Atmospheric Attenuation.
4.4 Meteorological Disturbances.
4.5 Free-space Optical Links.
Chapter 5. Propagation of an Optical Beam in Cinfined Space.
5.1 Introduction.
5.2 Various Mechanisms of Propagation.
5.3 Propagation Channel.
5.4 Modeling.
5.5 Additional Power Required to Reach a Given Bit Error Rate.
5.6 Optical Noise.
5.7 Comparison of Infrared and Radio Media and Conclusion.
Chapter 6. Optical Communicatio.
6.1 A Reminder About Digitization.
6.2 Examples of Laser Applications Outside Optical Communications.
6.3 Inter-satellite or Earth-satellite Optical Communications.
6.4 Free-space Optical Communications.
Chapter 7. Safety and Confidentiality.
7.1 Safety.
7.2 Confidentiality.
Bibliography.
Index.
See More
Olivier Bouchet
works in the field of free-space optics at France Telecom Research and Development.
Hervé Sizun is a specialist of the electromagnetic wave propagation at France Telecom.
Christian Boisrobert is one of the designers of the first digital link using optical fibres in France at France Telecom. He is a professor at the University of Nantes.
Frédérique de Fornal is the director of Research at CNRS and is Head of the Near Field Optics Group at the University of Bourgogne.
Pierre-Noël Favennec works as a consultant engineer and is the author of numerous scientific books and papers. He is also the Chairman of URSI France.
See More
Buy Both and Save 25%!
Free-Space Optics: Propagation and Communication (US $120.00)
-and- Stochastic Methods for Pension Funds (US $180.00)
Total List Price: US $300.00
Discounted Price: US $225.00 (Save: US $75.00)
Cannot be combined with any other offers. Learn more.
More in this series