Why Killer Products Don't Sell: How to Run Your Company to a New Set of Rules
ISBN: 978-1-906465-26-1
194 pages
December 2008, Capstone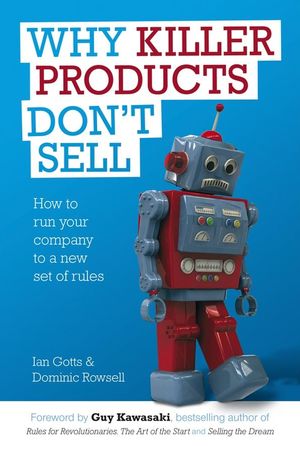 Coming from conversations with executive teams of technology companies, venture capitalists, and M&A advisers, the insights contained in Why Killer Products Don't Sell are gold dust. First the book lays bare the claim that sales is sales is sales. It exposes the 4 very different 'Buying Cultures' and how they should be approached: Value Offered, Value Added, Value Created, and Value Captured. But it also gives a proven methodology for assessing a company's product mix ('offering' vs 'buying culture'), and a transformation approach to optimize sales and improve competitiveness.
See More
Acknowledgments xi
Foreword xiii
Introduction xv
What this book is about xv
Why we wrote this book xvi
A bar in Rotterdam xvii
Who should read this book xix
How to use this book xxiii
1: Some killer products really don't sell 1
So many products, so few sales 1
Heroic failures 4
So firstly, what is a failure? 8
2: It's not how you sell, but how customers buy 11
Sales is sales is sales – right? 11
Four buying cultures 14
How does all this relate to Geoffrey Moore's Chasm? 17
WIIFM – so what exactly does all this mean to me? 19
How do people buy? 22
Momentum = getting the right people on board 26
Managing risk 27
3: If they are buying – are you selling? 29
Choosing the correct buying culture 29
Exploring the buying cultures 31
Different buying cultures, different operational cultures 37
What does a Value Captured company feel like? 40
What does a Value Created company feel like? 43
What does a Value Added company look like? 47
What does a Value Offered company look like? 50
4: The best kept secret – Value Created sales 53
Why Value Created 53
Why do so many companies get it wrong? 55
Vital signs 56
Why is Value Created difficult? 62
A Value Created salesman working in a Value Added company 63
And now some good news 66
5: The magic of a Value Created company 71
The perfect storm 71
The case for change 73
Management 74
R&D 79
Marketing 80
Sales 82
Delivery 94
Support 95
Safety notes 99
6: So what can I do about it? 109
CEO 109
CEO of a start-up 110
Chief Operations Officer 111
Sales Director 112
Head of M&A 113
Head of Marketing 114
Investors or VCs 114
Head of Innovation 116
7: Always change a winning team 119
Can you have too much success? 119
So, are you performing? 120
Transformation – the OCA methodology 123
Using the OCA methodology 133
The Final Word: A summary 137
Appendix 139
Index 167
See More
Ian Gotts
founded Nimbus Partners and as CEO has driven its growth over the last 10 years. His company has won numerous awards: D&T Fast50, D&T European Fast500, REALBusiness Hot 100, and The Sunday Times TechTrack 100. Nimbus is a Microsoft Gold Partner and has been singled out as a high potential partner. Ian is a member of the Microsoft worldwide Software + Services Partner Advisory Council and the UK Partner Advisory Council, and he appears on stage alongside Microsoft regularly. Nimbus was recently featured in Steve Ballmer's (Microsoft CEO's) keynote video to 10,000 partners at the Microsoft Worldwide Partner Conference in Denver. Ian is also a founder, investor and advisor to technology companies.
Dominic Rowsell is a business iconoclast and change management CEO. He is a highly experienced presenter and speaker. His expertise comes from practical experience in behavioural change, service sales, pre/post merger integration, leadership change and strategic thinking. As happy with five people as with five hundred, Dominic is a relaxed yet energetic speaker. His style uses cynical wit with a dry sense of humour and always draws his audiences into active involvement - he loves a heckler! He is both pragmatist and humanist and these attributes are key when having to point out painful realities to the Boardroom.
See More