E-book
The Unauthorized Guide to Doing Business the Richard Branson Way: 10 Secrets of the World's Greatest Brand Builder, 3rd Edition
ISBN: 978-1-907293-24-5
176 pages
November 2009, Capstone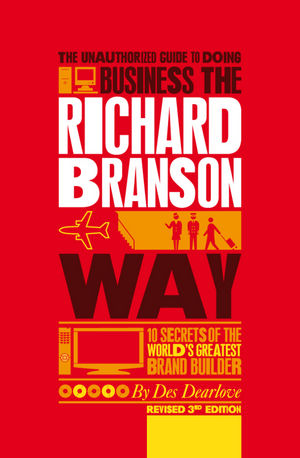 Richard Branson, the international powerhouse entrepreneur, is an opportunist with an uncanny knack of sniffing out great deals where others hesitate or fear to tread. Branson is the ultimate brand builder and never before has a single brand been so successfully deployed across such a diverse range of goods and services. So how does he do it?
The Unauthorized Guide to Doing Business the Richard Branson Way draws out the universal lessons from Richard Branson's remarkable success and identifies 10 strategies that can be applied to any business or career:
1. Pick on someone bigger than you
2. Do the hippy, hippy shake
3. Haggle: everything's negotiable
4. Make work fun
5. Do right by your brand
6. Smile for the cameras
7. Don't lead sheep, herd cats
8. Move faster than a speeding bullet
9. Size does matter
10. Never lose the common touch
Want to be the best? The secrets of phenomenal success are in your hands.
Check out the other Unauthorized Guides in this series: Jamie Oliver; Duncan Bannatyne; Alan Sugar; Bill Gates; and Philip Green.
See More
Acknowledgements.
Richard Branson Revisited...
The Life and Times of Richard Branson.
One: Pick on Someone Bigger Than You.
Two: Do the Hippy, Hippy Shake.
Three: Haggle: Everything's Negotiable.
Four: Make Work Fun.
Five: Do Right by Your Brand.
Six: Smile for the Cameras.
Seven: Don't Lead Sheep, Herd Cats.
Eight: Move Faster Than a Speeding Bullet.
Nine: Size Does Matter.
Ten: Never Lose the Common Touch.
How to Build a Brand the Richard Branson Way. 
Last Word.
Notes.
Index.
See More
Des Dearlove is co founder of the media content, concepts and consulting firm Suntop Media.  He writes on business issues for magazines and newspapers throughout the world, including The Times, American Management Review and is a contributing editor to the US magazine Strategy+Business. Suntop Media's Thought Leader Interview series is syndicated to publications in more than 25 countries.
Des is an author or co-author of numerous books. They include Generation Entrepreneur (shortlisted for the WH Smith Book Prize), Gravy Training, and Firestarters!   Des is an editor of the bestselling Financial Times Handbook of Management, now in its the third edition.
See More