Build a Brand in 30 Days: With Simon Middleton, The Brand Strategy Guru
ISBN: 978-1-907312-42-7
Paperback
358 pages
May 2010, Capstone
US $19.95

Add to Cart
This price is valid for United States. Change location to view local pricing and availability.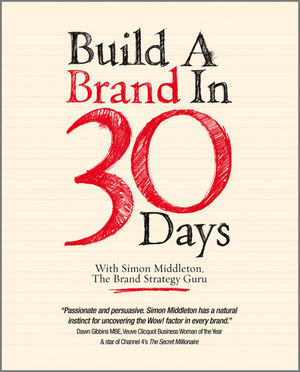 Other Available Formats:
E-book
Introduction.
DAY 1 What your brand is and what your brand isn't.
DAY 2 Your brand benchmark test.
DAY 3 Finding your authentic purpose.
DAY 4 Ambition and desire: what do you actually want from this?
DAY 5 From personal ambitions to rational intent: brand strategy
REAL BRAND STORY: bpha.
DAY 6 Talent: recognizing it and developing it.
DAY 7 Establishing your brand values.
REAL BRAND STORY: Adnams.
DAY 8 Putting your brand in context: finding out what's out there.
DAY 9 and 10 Use your imagination.
REAL BRAND STORY: BeWILDerwood.
DAY 11 Who don't you want to sell to?
DAY 12 Exploring your brand through the six-legged spider.
DAY 13 Refining your unique brand essence.
DAY 14 Understanding brand 'positioning'.
REAL BRAND STORY: Bray's Cottage Pork Pies.
DAY 15 Creating the narrative.
THE EXPERT VIEW: Tracy Kenny, Aviva.
DAY 16 Your brand name: how to get it right and how to avoid pitfalls.
REAL BRAND STORY: Voluntary Norfolk.
DAY 17 Creating the internal brand positioning statement.
DAY 18 Shaping the external brand positioning line.
REAL BRAND STORY: Anthony Nolan.
DAY 19 Nurturing your greatest resource: you.
DAY 20 Do-it-yourself media relations.
THE EXPERT VIEW: Gordon Maw, MAW Communications.
REAL BRAND STORY: Jess Morgan.
DAY 21 How not to waste your advertising budget.
THE EXPERT VIEW: Chris Murphy, Chairman, balloon dog.
DAY 22 Making your brand come alive online.
THE EXPERT VIEW: Mark Cook, Marketing Director, Further Search Marketing.
THE EXPERT VIEW: Stephanie Diamond, President, Digital Media Works, Inc.
THE EXPERT VIEW: Fiona Ryder, Chief Executive Offi cer, StreamExchange.
DAY 23 A brilliant brand at every touch-point.
REAL BRAND STORY: Mr. Site.
DAY 24 Design matters.
THE EXPERT VIEW: Scott Poulson, founder of Special Design Studio.
DAY 25 Your personal brand behaviour.
DAY 26 How to get your staff to live your brand.
THE EXPERT VIEW: Caroline Rust, owner of WorkShopsWork.
DAY 27 Why cheaper isn't always better.
DAY 28 What to do when your brand gets things wrong.
DAY 29 Brand extension: opportunities and dangers.
REAL BRAND STORY: What makes Pret special?
DAY 30 Next steps.
MY REAL BRAND STORY: Hemsby & Newport.
References and further reading.
Real Brand Story and Expert View Contributors.
Brand Strategy Guru Speaking and Consultancy.