Learning the Language of Global Citizenship: Service-Learning in Applied Linguistics
ISBN: 978-1-933371-06-1
441 pages
January 2007, Jossey-Bass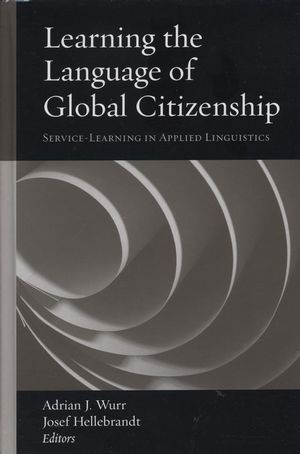 While addressing the implications of rising multilingualism in America,
Learning the Language of Global Citizenship
explores the link between the achievement gap and academic language proficiency, as well as civic literacy and the individuals' motivation for civic engagement. In this book, the authors show how service-learning enhances language learning, international understanding, and global civic participation skills.
This is a topical book designed for practical use by service-learning and language educators in applied linguistics and related disciplines such as English, foreign languages, hearing and speech sciences, and TESOL. It introduces readers to current and unique approaches toward research on first- and second-language acquisition, language policy and planning, language testing and methodology, assessment, and bilingualism. The book also raises fundamental questions for undergraduate and graduate courses with social justice themes by considering educational, linguistic, and human rights issues.
Learning the Language of Global Citizenship is divided into four parts:
Theoretical framework for developing service-learning projects in applied linguistics
Domestic service-learning efforts
International service-learning efforts
Service-learning research reports representing Spanish, TESOL, teacher education, and composition studies
The authors make a convincing case for promoting and preparing learners for educated and engaged citizenship in both local and global arenas. Each of the projects and methods they describe emphasizes the importance of second language proficiency for establishing and sustaining academic community partnerships in today's multilingual and multicultural societies.
See More
About the Authors.
Preface (Edward Zlotkowski).
Introduction and Overview: Language for Community Engagement at Home and Abroad (Adrian J. Wurr and Josef Hellebrandt).
Section I: Conceptual Essays.
1 What's the Service in Service-Learning? Historicizing as a Means of Understanding (Joby Blaine Taylor).
2 The Service-Learning Classroom and Motivational Strategies for Learning Spanish: Discoveries From Two Interdisciplinary Community-Centered Seminars (Chin-Sook Pak).
3 Conceptualizing Service-Learning as Second Language Acquisition Space: Directions for Research (Denise M. Overfield).
4 Crossing Borders / Forging Identities: Echoes of Symbiosis Between Classroom and Community (Stuart Stewart).
Section II: Domestic Service-Learning Efforts.
5 Teaching the Lived Experience of Language Learning (Ruth Spack).
6 TESOL in Context: Student Perspectives on Service-Learning (Jessie Moore Kapper, Laura Clapp, and Cindy Lefferts).
7 Service-Learning Throughout the Spanish Curriculum: An Inclusive and Expansive Theory-Driven Model (Howard Grabois).
8 From Theory to Realistic Praxis: Service-Learning as a Teaching Method to Enhance Speech-Language Pathology Services With Minority Populations (José G. Centeno).
Section III: International Service-Learning.
9 Harnessing the Potential of International Service-Learning: An Example Working With a Bilingual Mayan/Spanish Community (Darci L. Strother and Rosario Díaz-Greenberg).
10 Talking Hands: Sharing in the Lives of Deaf People (Amy Szarkowski).
11 International Service-Learning in the Philippines: Community Building Through Intercultural Communication and Second Language Use (James Michael Perren).
Section IV: Service-Learning Research Reports.
12 The Intersection of the Academy and the Community: Researching Relationships Through Community-Based Education (Gresilda Tilley-Lubbs).
13 Service-Learning and Academic Literacy: Linking Writing Students, Research, and the Community (Mary C. Hutchinson).
14 Meeting the Needs of Those Involved: A University-Based Community ESL Program (Fu-An Lin).
15 Confidence to Contribute: Service-Learning in ESL (Erin Whittig and Aileen Hale).
16 Learning How to Knock: Cross-Cultural Service-Learning With Older Students (Robin Glenn Walker).
Index.
See More
Adrian Wurr
is assistant professor of English and service-learning faculty fellow emeritus at the University of North Carolina-Greensboro, where he teaches courses in applied linguistics, composition, and English education. His research interests include Teaching English to Speakers of Other Languages (TESOL), service-learning, literacy studies, and program administration. He has published numerous scholarly articles in the U.S. and abroad, including forthcoming works in
TESOL Quarterly and Reflections
, the premiere national, peer-reviewed journal devoted to the study of community-based writing, He serves as the associate editor for the online journal,
The Reading Matrix
, and as a consultant on the Campus Compact Research and Scholarship Initiative in North Carolina. In spring 2007, Dr. Wurr will begin a five-month Fulbright TESOL Lecturing position in Vietnam.
Josef Hellebrandt (Ph.D., Purdue University) is associate professor of Spanish and chair of the Department of Modern Languages and Literatures at Santa Clara University. his research focuses on service-learning in Spanish and civic engagement. Drawing on his collaborations with service-learning researchers and practitioners throughout the United States, he published Construyendo Puentes (Building Bridges): Concepts and Models for Service-Learning in Spanish (coeditor: Lucia Varona, 1999) within the American Association for Higher Education's series on service-learning in the disciplines and Juntos: Community Partnerships in Spanish and Portuguese (coeditors: Jonathan Arries and Lucia Varona, 2004). In addition to his professional work, he serves on the board of a nonprofit Saturday morning school for German in San Jose, California.
See More
Learn more about