Textbook
Nation of Letters: A Concise Anthology of American Literature, Volume 1, 2nd Edition
ISBN: 978-1-933385-09-9
408 pages
July 2005, ©2005, Wiley-Blackwell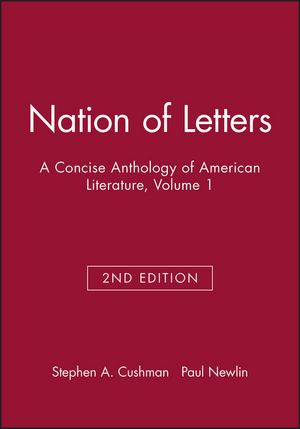 Nation of Letters
evokes the wisdom and artistic literary expression inherent in the American experience at its best. The editors have produced an anthology of manageable size and affordable length, one thatcan comfortably be carried to the classroom.
Beginning with Native American legends, the 112 selections include poetry, fiction, and essays, and span the decades through the poems of Emily Dickinson.
See More
1. Native American Legends.
2. John Smith (1580-1631).
3. William Bradford (1590-1657).
4. Anne Bradstreet (c.1612-1672).
5. Mary Rowlandson (c.1637-1711).
6. Edward Taylor (c.1642-1729).
7. Jonathan Edwards (1703-1758).
8. Thomas Jefferson 1743-1826).
9. St. John de Crevecoeur (1735-1813).
10.Benjamin Franklin (1706-1790).
11.Phillis Wheatley (1753-1784).
12.Philip Freneau (1752-1832).
13.Washington Irving (1783-1859).
14.James Fenimore Cooper (1789-1851).
15.William Cullen Bryant (1794-1878).
16.Ralph Waldo Emerson (1803-1882).
17.Nathaniel Hawthorne (1804-1864).
18.Edgar Allen Poe (1809-1849).
19.Henry David Thoreau (1817-1862).
20.Frederick Douglass (1818-1895).
21.Herman Melville (1819-1891).
22.Abraham Lincoln (1809-1865).
23.Walt Whitman (1819-1892).
24.Emily Dickerson (1830-1886).
Bibliography.
See More
Stephen Cushman,
professor of English at the University of Virginia, earned his doctorate at Yale University. His publications include several books, including
Fictions of Form in American Poetry
(1993) and
William Carlos Williams and the Meaning of Measure
(1985)
.
He is currently working on a book about verbal and visual representations of the American Civil War.
Paul Newlin, who earned his doctorate at UCLA, has published studies on the writings of Poe, Bryant, Cooper, Hawthorne, Henry James, Stephen Crane, and Ricard Wright. A recipient of the SUNY Chancellor's Award for Excellence in Teaching and the SUNY at Stony Brook President's Award for Excellence in Teaching, Newlin currently lives on Deer Isle, Maine.
See More