On Your Own!: How to Start Your Own CPA Firm, 2nd Edition
ISBN: 978-1-937351-54-0
224 pages
November 2016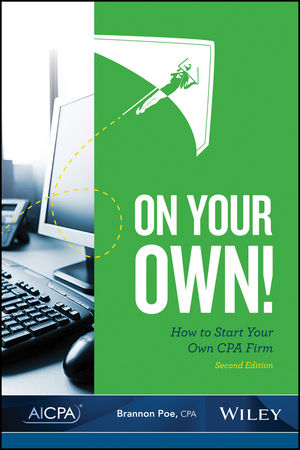 Going solo doesn't have to be a game of trial and error. Careful planning can make it one of the most rewarding decisions of your accounting career. Now in its second edition and revised by author Brannon Poe, this book leads new solo practitioners through each stage of creating your own firm, bringing your vision to reality, and nurturing your practice to make that reality a success.
Follow each of the book's five parts as it takes you chronologically from start to success. Each chapter is rich with strategies as well as stimulating follow-up questions that will help you define your goals and plans, drawing you to careful consideration of important factors such as:
Creating concise mission and vision statements
Establishing goals, standards, attitude, and skills that reflect a successful practitioner
Anticipating financial needs
Defining family involvement
Shifting from employee to owner
Understanding potential stumbling blocks
Advancing your practice with a specialty
Deciding whether to buy a practice
Choosing a form of organization for your practice
Building client relationships
Keeping a focus on the future
And much more!
See More
Introduction to the Second Edition 1
Introduction to the First Edition 3
Part I Why Start Your Own Practice? 5
1 Making the Decision 7
Control 8
Financial Gain 8
Lifestyle and Family Support 10
Entrepreneurial Spirit 11
Personal Growth 11
Questions 12
2 Creating Your Vision 13
Freestyle Writing 13
Concise Mission and Vision Statements 14
Developing a Mission Statement 15
Developing a Vision Statement 16
Practical Uses 16
Questions 17
3 Profile of a Successful Sole Practitioner 19
Academic and Professional Experience 19
Well-Defined Goals and Standards 20
Work Skills and Habits 22
Communication Skills 23
Positive Attitude and Professional Demeanor 24
Questions 25
Part II Early Decisions 27
4 Critical Considerations 29
Managing Time 29
Anticipating Financial Needs 33
Addressing Competition and Economic Determiners 34
Initial Client Base 34
Shifting From Employee to Owner 36
Family Involvement 36
Understanding Potential Stumbling Blocks 37
Insufficient Client Base 37
Partner Mismatch 38
Practice Acquisition 38
Questions 38
5 Generalist or Specialist? 41
The Changing Accounting Field 41
Beginning as a Generalist 43
Advancing Your Practice With a Specialty 44
Industry or Service Specialty? 45
Defining Your Target Market 46
Questions 47
6 To Buy or Not to Buy? 49
Advantages of Buying a Practice 49
Matching Considerations 51
Risks in Buying a Practice 52
Risk Number One: Employees 52
Risk Number Two: Client List Weighted Toward One Major Client 53
Risk Number Three: Buyer Apathy 53
Finding a Practice to Buy 54
Striking the Deal 54
Facilitating the Transition Between Seller and Buyer 56
Maintaining Objectivity 57
Questions 57
7 Which Form of Organization for Your Practice? 59
Sole Proprietorship 59
Partnership 60
Loose Association (Office-Sharing Arrangement) 61
LLCs, LLPs, and Professional Corporations 62
Practice Continuation Agreements 64
Questions 65
Part III Setting Up a Practice 67
8 Choosing an Office Location 69
Locating to Serve Your Target Market 70
Working From Your Home 71
Executive Suite Rental 73
Renting Individual Office Space 75
Determining the Amount of Space Needed 75
Defining the Necessary Amenities 76
Determining How Much to Pay 76
Questions 77
9 Financing Your Business 79
Developing a Business Plan 80
9 Financing Your Business—continued Forecasting Your Financial Needs 81
Revenue Goals 81
Estimating Initial Key Costs 82
Living Expenses 84
Borrowing Money From Conventional Sources 85
Borrowing Money From Unconventional Sources 86
Postponing Going Solo 88
Questions 88
10 Operational Issues 89
Measuring Important Results 90
Staffing Your Practice 92
Furnishing and Equipping Your Office 94
Using Technology to Your Advantage 95
Developing Personnel Policies 96
Anticipating Quality Control Needs 97
Establishing Good Life/Work Balance Habits 97
Questions 99
Part IV Practice Development and Client Management 101
11 Building Your Practice 103
Marketing 104
Converting Clients From Your Previous Firm 104
Website Promotion 105
Social Networking 105
Traditional Networking 106
Capturing Referrals 107
Direct Mail 107
Telephone Marketing 108
E-mail Marketing 108
Writing and Speaking 109
Publications 109
Seminars 109
Sales 110
Questions 114
12 Building and Nurturing Client Relationships 115
Engagement Letters 116
Pricing Services Properly 117
Difficult or Undesirable Clients 118
12 Building and Nurturing Client Relationships—continued Handling Concerns About Scope of Services 120
Managing Clients When You Make a Mistake 121
Being Choosy About Clients 123
Pricing, Billing, and Collections 126
Making the Most of Client Meetings 126
Generating Referrals Through Your Best Client Relationships 129
Questions 130
13 About the Price 131
Creating Expectations 131
Overcoming Fee Resistance 133
Controlling Your Own Efficiency 135
Client Circumstances Affect the Value of Your Service 137
Deciding on the Specific Amounts 137
Special Concessions to Start-Up Businesses 138
Questions 139
14 Getting Paid 141
Require Upfront Payment 142
Managing Accounts Receivable 143
Questions 145
Part V Anticipating the Future 147
15 Staying Sharp—Nurturing Your Development 149
Professional and Technical Reading 149
Continuing Education 150
Conferences, Meetings, and Seminars 150
Professional Organizations 151
Other Forms of Professional and Personal Expression 151
Questions 152
16 Been There, Done That—Advice From Successful CPAs 153
Epilogue 157
Appendix Page
A Engagement Letters 159
B Sample Business Plan and Loan Proposal 177
C FAST-PLUS Exercise 189
D Client Evaluation Questionnaire 195
E Lease Checklist 199
F AICPA Resources for Sole Practitioners and Small Firms 205
See More
Brennon Poe is a licensed CPA with nearly 20 years of professional experience and the author of The Accountant's Flight Plan. An experienced intermediary with a singular focus on accounting practice brokerage, Brennon has a unique ability to help creatively integrate information to develop clear-focused plans. He helps clients implement these plans to achieve their most important goals.
Brennon began his career in public accounting as an auditor with Ernst & Young before working for several years in auditing and tax preparation for the regional firm of Elliott, Davis & Company. Subsequently, Brennon became a shareholder in a privately held, family-owned business and a founding shareholder in a successful start-up manufacturing company. This breadth of experience − with companies large and small − has helped Brannon excel in efficiently and effectively facilitating hundreds of successful practice transitions.
Brannon makes his home in Charleston, SC, with his wife and three children. Away from the office, he enjoys competitive racquetball, boating, and fishing.
See More