Communications: Methods and Applications for Financial Managers
ISBN: 978-1-937351-96-0
208 pages
May 2017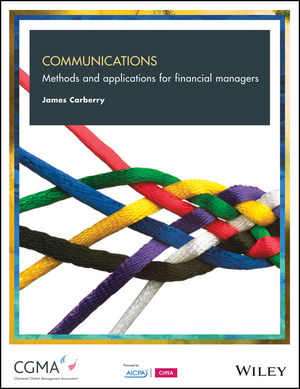 Improving communication is one of the most important – and challenging – issues that management accountants face. In a global survey of CFOs, Ernst & Young said: "Despite two thirds of respondents saying that increasingly they act as the public face of the organization, most point to communication and influencing as the most important area for improvement."
In this publication you will learn:
How do management accountants know if they are effectively communicating?
What are the most effective techniques for improving their communication skills?
This book is specifically designed to meet the needs and interests of management accountants. It draws on interviews with finance professionals at every level of corporate accounting, as well as with communication consultants, executive recruiters and educators. It looks at how management accountants communicate inside and outside their organizations, identifies best practices, and gives hands-on strategies that accountants can use right away.
Readers will discover how to:
Move their current communication skills to a higher level.
Recognize the importance of communication within the context of their financial manager function.
Understand the right way to deliver bad news and resolve conflicts.
Manage the impact of new technologies on traditional communication channels.
Develop the skills to use active listening as the foundation for positive communication tactics.
See More
INTRODUCTION 1
1 BUSINESS COMMUNICATION: ISSUES FOR MANAGEMENT ACCOUNTANTS 5
The Changing Role of the CFO 5
CFO Responsibilities 6
Finding Insights in Data 7
Budgeting 7
Measuring Value 7
Managing Risk 8
Specific Communication Challenges CFOs Face 8
Explaining Complex Issues 8
Communicating With Investors 10
Core Skills for Management Accountants 11
Communication 11
Building Relationships 12
Participation in Training Programmes 12
Taking the Initiative to Learn 12
Meeting Expectations 12
Managing Change 13
Chapter Summary 13
2 DEVELOPING COMMUNICATION COMPETENCE: FROM SCHOOL TO CFO 15
Communication Competencies 15
Communication in University Accounting Programmes 19
Career Paths in Accounting 21
Public Accounting 21
Management Accounting 22
Financial Accounting 23
Retaining the Next Generation of Management Accountants 23
Chapter Summary 24
3 COMMUNICATION SKILLS 27
Purpose of Communication 29
Forms of Communication 29
Using Communication in Business 32
Measuring Results 34
Core Skills 34
Listening 35
Speaking 37
Writing 39
Nonverbal Communication 40
Metacommunication 40
Cross-Cultural Communication 41
Chapter Summary 42
4 COMMUNICATING IN THE WORKPLACE 45
Face-to-Face Communication 45
Team Communication 46
Meetings 48
Written Communications 49
E-mails 49
Instant Messaging and Text Messaging 52
Memorandums 52
Letters 54
Phone 56
Chapter Summary 56
5 WRITE FROM THE START 59
Preparing to Write 59
Purpose 61
Subject 62
Audience 63
Delivery 65
The Write Mindset 66
Traditional Outlining 67
Alternatives to Traditional Outlining 68
Brainstorm Outline (Brainstorming) 69
Mind Mapping 69
Questioning 70
Free Writing 70
Context 70
Research 71
Chapter Summary 72
6 WRITING THE REPORT 75
Writing the First Draft 75
Writing Your Theme 75
Building Your Report Paragraph by Paragraph 76
Sections of a Report 79
Body 79
Executive Summary 81
Introduction 81
Conclusion 82
Recommendations 83
Editing 83
Chapter Summary 85
Appendix 6-1: Some Suggestions on How to
Tighten and Strengthen Your Sentences 86
7 PRESENTATIONS: PLANNING AND PREPARING 89
Planning 90
Outlining Your Presentation 91
Storyboard: A Visual Outline 91
Introduction 93
Transitions 95
Guidelines for Content 96
Developing a Content Outline: An Example 100
The Close 101
Chapter Summary 101
8 PRESENTATIONS: DESIGNING AND DELIVERING 103
Preparing Notes for Your Presentation 103
Preparing Visuals for Your Presentation 103
Flip Charts 104
Whiteboards 104
Paper Handouts 104
Projectors 104
Slides 104
Designing Your Slide Presentation 105
Mix of Slides 105
Number of Slides 106
Design Elements 106
Colours 107
Presentation Design Example 108
Delivering Your Presentation 110
Preparation 110
Presentation Day 111
Conclusion 113
Resources 113
Chapter Summary 114
9 SOCIAL MEDIA IN BUSINESS 117
Benefits 118
Risks 119
Management Accountants and Social Media 119
Social Media Channels 121
LinkedIn 121
Twitter 122
Facebook 122
Google+ 123
YouTube 123
Internet 123
Company Website 124
Blogs 124
Podcasts 124
Video 124
Web Conferencing (Webinar) 125
Mobile Devices 125
Social Media Policy 125
Chapter Summary 127
BIBLIOGRAPHY 131
Appendi x A: INTERVIEWS 141
Appendi x B: CORPORATE ACCOUNTING CAREER PATHS 167
Appendi x C: BUSINESS PROPOSALS 171
Appendi x D: CHECKLIST FOR WRITING REPORTS 177
Appendi x E: CHECKLIST FOR PRESENTATIONS 179
Appendi x F: RESOURCES 181
See More
James Carberry is the principal of Carberry Communications, a business writing and editing service based in Portland, Oregon. He has been a corporate writer and editor, a business writer based in Singapore and, for 10 years, a staff reporter for The Wall Street Journal. Before joining the Journal, he was a reporter for newspapers in Berkeley and Riverside, California. Carberry is the co-author, with Stan Ross, of The Inside Track to Careers in Accounting, published by the AICPA®.
See More