Statements on Standards for Accounting and Review Services: Clarification and Recodification
ISBN: 978-1-941651-39-1
224 pages
November 2016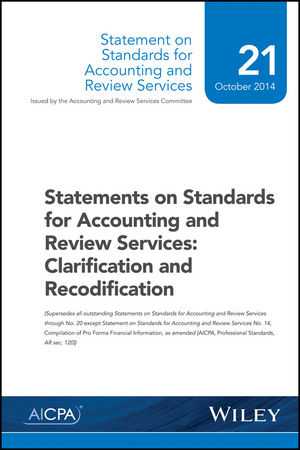 The Accounting and Review Services Committee (ARSC) has issued Statement on Standards for Accounting and Review Services No. 21, Statements on Standards for Accounting and Review Services: Clarification and Recodification. The issuance of SSARS No. 21 represents a major milestone in the ARSC's project to clarify and revise the standards for reviews, compilations, and engagements to prepare financial statements.
To assist readers to easily locate information, a detailed table of contents is provided at the beginning of the SSARS. This statement recodifies and supersedes all outstanding SSARSs through No. 20, except SSARS No. 14, Compilation of Pro Forma Financial Information.
SSARS No. 21 is effective for reviews, compilations, and engagements to prepare financial statements for periods ending on or after December 15, 2015 but early implementation is permitted.
This statement is a standalone SSARS and is not a codification of all clarified SSARSs. This statement has been codified in AICPA Professional Standards, which contains a complete codification of Statements on Standards for Accounting and Review Services. Practitioners are advised to use the codified version of this SSARS as they prepare to evaluate and update their methodologies, and prepare for changes precipitated by the clarity project.
See More
60 General Principles for Engagements Performed in Accordance With Statements on Standards for Accounting and Review Services 01–A50
Objective 05
Definitions 06
70 Preparation of Financial Statements 01–A20
Exhibit—Other Preparation, Compilation and Review Publications A50
Appendix—Preparation of Financial Statements Versus Assistance in Preparing Financial Statements A19
Exhibit—Illustrative Engagement Letter A20
80 Compilation Engagements 01–A43
Exhibit A—Illustrative Engagement Letters A42
Exhibit B—Illustrative Examples of the Accountant's Compilation Report on Financial Statements A43
90 Review of Financial Statements 01–A1 47
Appendix A—Analytical Procedures the Accountant May Consider Performing When Conducting a Review of Financial
Statements A143
Appendix B—Unusual or Complex Situations to Be Considered by the Accountant When Performing Inquiry Procedures in a Review of Financial Satements A144
Exhibit A—Illustrative Engagement Letters A145
Exhibit B—Illustrative Representation Letter A146
Exhibit C—Illustrations of Accountant's Review Reports on Financial Statements A147
See More
Founded in 1887, the American Institute of Certified Public Accountants (AICPA) represents the CPA and accounting profession nationally and globally regarding rule-making and standard-setting, and serves as an advocate before legislative bodies, public interest groups and other professional organizations. The AICPA develops standards for audits of private companies and other services by CPAs; provides educational guidance materials to its members; develops and grades the Uniform CPA Examination; and monitors and enforces compliance with the accounting profession's technical and ethical standards.
The AICPA's founding established accountancy as a profession distinguished by rigorous educational requirements, high professional standards, a strict code of professional ethics, a licensing status and a commitment to serving the public interest.
See More