CGMA Exam - Case Study Guide
ISBN: 978-1-941651-57-5
256 pages
May 2017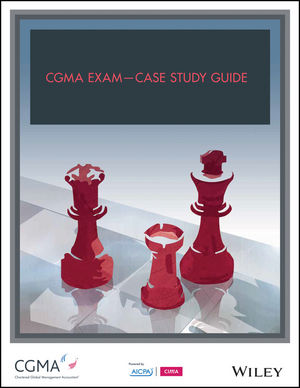 The CGMA Exam – Case Study Guide is designed to provide you with an understanding of the CGMA exam. It provides an overview of the key requirements to prepare for the CGMA case study examination and will provide you with proven study techniques. The book leverages the practice exam available online for all exam candidates. It provides guidance, illustrations and tools to analyze the pre-seen material for the exam to prepare, as well as a detailed walk-through of the actual exam scenarios and tasks, and offers sample solutions and comments.
Practical hints and realistic tips are given throughout the book making it easy for you to apply what you've learned in this text to your actual case study exam. It covers the building blocks of successful learning and examination techniques and shows you how to earn all the marks you deserve as well as explaining how to avoid the most common pitfalls.
See More
Chapter 1 Introduction to the CGMA exam 1
Chapter 2 Understanding competencies 11
Chapter 3 Integrating skills and knowledge 35
Chapter 4 Pre- seen information for the practice exam case 45
Chapter 5 Analysing the pre-seen materials 85
Chapter 6 Summary of the pre-seen materials 103
Chapter 7 Practice scenarios and tasks 117
Chapter 8 Exam day techniques 177
Chapter 9 Unseen information for the practice exam 195
Chapter 10 Walkthrough of the practice exam 205
Chapter 11 Review of solution to practice exam and marking guide 223
See More
Founded in 1887, the American Institute of Certified Public Accountants (AICPA) represents the CPA and accounting profession nationally and globally regarding rule-making and standard-setting, and serves as an advocate before legislative bodies, public interest groups and other professional organizations. The AICPA develops standards for audits of private companies and other services by CPAs; provides educational guidance materials to its members; develops and grades the Uniform CPA Examination; and monitors and enforces compliance with the accounting profession's technical and ethical standards.
The AICPA's founding established accountancy as a profession distinguished by rigorous educational requirements, high professional standards, a strict code of professional ethics, a licensing status and a commitment to serving the public interest.
See More