Geotechnical Engineering Handbook, Volume 1, Fundamentals
ISBN: 978-3-433-01449-3
808 pages
August 2002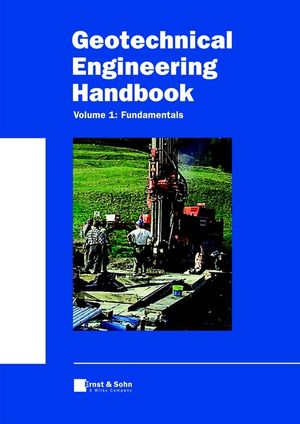 Volume 1 covers the basics necessary for any construction activity in foundation engineering. This systematic introduction to the assessment of soil and rock properties provides an insight into the requirements of Eurocode 7, Parts 1 and 3. It also gives details of geotechnical laboratory and field tests and the associated equipment, concise treatments of relevant solutions provided by the theories of elasticity and plasticity and numerical methods applied to solve problems of geotechnical design. The problems of earthquakes are also explained with regard to Eurocode 8.
See More
International Agreements (U. Smoltczyk & C. Bauduin).
Determination of Characteristic Values (C. Bauduin).
Geotechnical Field Investigations (K.-J. Melzer & U. Bergdahl).
Properties of Soils and Rocks and their Laboratory Determination (P. von Soos & J. Boháč).
Constitutive Laws for Soils from a Physical Viewpoint (G. Gudehus).
Calculation of Stress and Settlement in Soil Masses (H. Poulos).
Treatment of Geotechnical Ultimate Limit States by the Theory of Plasticity (R. Nova).
Soil Dynamics and Earthquakes (G. Klein & F. Sperling).
Earth Pressure Determination (G. Gudehus).
Numerical Methods (P. Gussmann, et al.).
Metrological Monitoring of Slopes, Embankments and Retaining Walls (K. Linkwitz & W. Schwarz).
Geotechnical Measurement Procedures (A. Thut).
Phenomenology of Natural Slopes and Their Mass Movement (E. Krauter).
Ice Loading Actions (M. Hager).
Stability of Rock Slopes (W. Wittke & C. Erichsen).
Subject Index.
See More
Ulrich Smoltczyk is editor of the German Grundbau Taschenbuch. He was Professor for geotechnical engineering in Stuttgart and sat on numerous national and international committees responsible for norms and standards.

The first volume was written by 19 authors, including renowned experts from Belgium, Sweden, the Czech Republic, Australia, Italy, U.K., Switzerland and Germany.
See More