Recommendations for Design and Analysis of Earth Structures using Geosynthetic Reinforcements - EBGEO
ISBN: 978-3-433-02983-1
338 pages
June 2011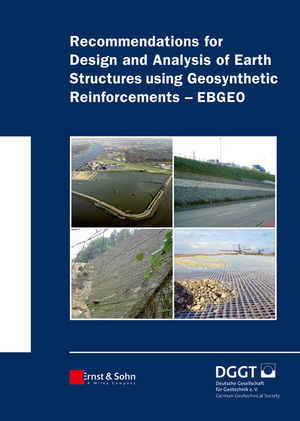 The completely revised and extended Recommendations deal with all questions relevant to the planning and dimensioning of geosynthetics-reinforced earth structures. In addition to the demands on materials and analysis principles, the applications of geosynthetics in a range of foundation systems, ground improvement measures, highways engineering projects, in slopes and retaining structures, and in landfill engineering are discussed.

The Recommendations have been supplemented by the following sections:
- reinforced earth structures over point or linear bearing elements,
- foundation systems using geotextile-encased columns,
- bridging subsidence,
- dynamic actions of geosynthetic-reinforced systems.

The remaining sections have been fundamentally revised and updated in line with current standards and codes of practice.



See More
Introduction to the Recommendations and their Application Principles
Demands on Materials
Analysis Principles
Embankments on Soft Soils
Reinforced Foundation Pads
Highways Engineering
Retaining Structures
Landfill Engineering -
Reinforcement of Surface-parallel, Stratified Systems
Reinforced Earth Structures over Point or Linear Bearing Elements
Foundation Systems Using Geotextile-encased Columns
Bridging Subsidence
Dynamic Actions of Geosynthetic-reinforced Systems

See More
Working Group 5.2 'Analysis and Dimensioning of Soil Structures using Geosynthetic Reinforcements' forms part of the Technical Group 'Synthetics in Geotechnical Engineering' of the Deutsche Gesellschaft für Geotechnik e.V. (DGGT). It comprises approximately 30 specialists gathered from science, industry, and building-related agencies and employers. They meet and work on a voluntary basis.
See More