Building Physics - Heat, Air and Moisture: Fundamentals and Engineering Methods with Examples and Exercises, 2nd Edition
ISBN: 978-3-433-03027-1
340 pages
September 2012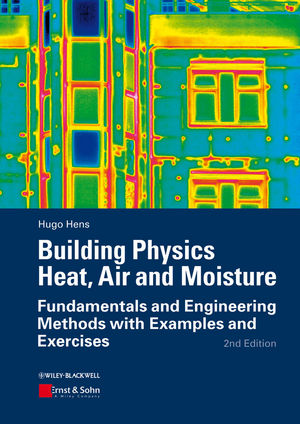 Bad experiences with construction quality, the energy crises of 1973 and 1979, complaints about 'sick buildings', thermal, acoustical, visual and olfactory discomfort, the need for good air quality, the move towards more sustainability, all have accelerated the development of a field, which until some 40 years ago was hardly more than an academic exercise: building physics.
Building physics combines several knowledge domains such as heat and mass transfer, building acoustics, lighting, indoor environmental quality and energy efficiency. In some countries, also fire safety is included. Through the application of existing physical knowledge and the combination with information coming from other disciplines, the field helps to understand the physical phenomena governing assembly, building envelope, whole building and built environment performance, although for the last the wording "urban physics" is used. Building physics has a true impact on performance based building design.
This volume focuses on heat, air, moisture transfer and its usage in building engineering applications.
See More
Preface
0 Introduction
Subject of the book
Building Physics
Importance of Building Physics
History of Building Physics
Units and Symbols
1 Heat Transfer
Overview
Conduction
Convection
Radiation
Applications
Problems
2 Mass Transfer
Generalities
Air Transfer
Vapour Transfer
Moisture Transfer
Problems
3 Combined heat-air-moisture transfer
Overview
Material and Assembly Level
Building Level
Problems
4 Postscript
5 Problems, Solutions
See More
Prof. em. Dr.-Ing. Hugo S. L. C. Hens, Katholische Universität Löwen/Belgien, lehrte Bauphysik von 1975 bis 2003, Gebäudeplanung von 1970 bis 2005 und Technische Gebäudeausrüstung von 1975 bis 1977 sowie von 1990 bis 2008. Bis 1972 war er als Tragwerksplaner für Wohnhäuser, Büro- und Geschossbauten in einem Architekturbüro tätig. Er hat als Autor bzw. Koautor über 150 Veröffentlichungen verfasst und hunderte Schadensgutachten erstellt. Während zehn Jahren koordinierte er die internationale Arbeitsgruppe CIB W40 "Heat and Mass Transfer in Buildings". Von 1986 bis 2008 war er im Rahmen des Forschungsprogramms "Energy Conservation in Buildings and Community Systems" der Internationalen Energieagentur IEA für die Erarbeitung von Annex 14, Annex 24, Annex 32 und Annex 41 verantwortlich. Er ist Mitglied der American Society of Heating, Refrigeration and Air Conditioning Engineers (ASHRAE).
See More