E-book
Applied Building Physics: Boundary Conditions, Building Peformance and Material Properties
ISBN: 978-3-433-60127-3
322 pages
January 2012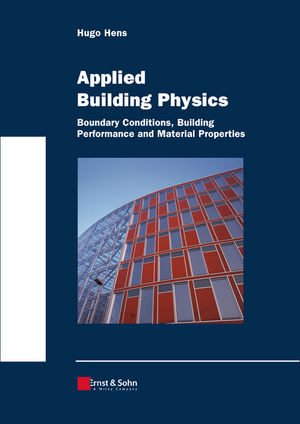 The energy crises of the 1970s, persisting moisture problems, complaints about sick buildings, thermal, visual and olfactory discomfort, and the move towards more sustainability in building construction have pushed Building Physics to the forefront of building innovation. The societal pressure to diminish energy consumption in buildings without impairing usability acted as a trigger to activate the whole notion of performance based design and construction. As with all engineering sciences, Building Physics is oriented towards application, which is why, after a first book on fundamentals this second volume examines performance rationale and performance requirements. Outdoor and indoor climate conditions are described and calculation values are discussed, the performance concept is specified at the building level and at the building envelope level, and heat-air-moisture material properties are defined.
The book incorporates 35 years of teaching Building Physics to architectural, building and civil engineers, bolstered by 40 years of experience, research and consultancy.

See More
VORWORT
EINLEITUNG
KLIMATISCHE BEDINGUNGEN UND INNENRAUMKLIMA
Überblick
Außenklima
Trockentemperatur und Lufttemperatur
Sonneneinstrahlung
Langwellige Strahlung
Relative Luftfeuchte und Wasserdampfdruck
Wind
Niederschlag und Schlagregen
Standardisierte Außenklimawerte
Bedingungen im Innenbereich
Feuchteabgabe in Innenräumen
Klimaklassen für den Innenbereich
Druckunterschiede innen/außen
ANFORDERUNGSSPEKTRUM
Definitionen
Funktionale Anforderungen
Messbare Leistungsanforderungen
Geschichtlicher Hintergrund
Leistungsspektren
FUNKTIONALE ANFORDERUNGEN AN GEBÄUDE
Thermische Behaglichkeit
Physiologische Grundlagen
Lokale Unbehaglichkeit
Gesundheit und Qualität des Raumklimas
Energieeffizienz
Energieverbrauch in Gebäuden
Raumheizung
Parameter zur Festlegung des Nettoheizbedarfs
Nettoenergiebedarf und tatsächlicher Energieverbrauch
Klassifizierung von Gebäuden nach Energieeffizienz
Lebensdauer
Lebenszykluskosten
Nachhaltigkeit
AERO-HYGROTHERMISCHE ANFORDERUNGEN AN DIE GEBÄUDEHÜLLE
Einleitung
Luftdichtigkeit
Wärmedurchgang
Dynamische thermische Reaktion
Feuchteschutz
Wärmebrücken
Hygrothermische Beanspruchung und Belastung
Beispiel für eine Leistungsüberprüfung: Fachwerkwände
AERO-HYGROTHERMISCHE MATERIALEIGENSCHAFTEN
Trockene Luft und Wasser
Bau- und Wärmedämmmaterialien
LITERATUR
,
See More
Prof. em. Dr.-Ing. Hugo S. L. C. Hens, Katholische Universität Leuven/Belgien, lehrte Bauphysik von 1975 bis 2003, Gebäudeplanung von 1970 bis 2005 und Technische Gebäudeausrüstung von 1975 bis 1977 sowie von 1990 bis 2008. Bis 1972 war er als Tragwerksplaner für Wohnhäuser, Büro- und Geschossbauten in einem Architekturbüro tätig.
Er hat als Autor bzw. Koautor ca. 70 Artikel und 170 Tagungsbeiträge veröffentlicht und hunderte Schadensgutachten erstellt. Während zehn Jahren koordinierte er die internationale Arbeitsgruppe CIB W40 "Heat and Mass Transfer in Buildings". Von 1986 bis 2008 war er im Rahmen des Forschungsprogramms "Energy Conservation in Buildings and Community Systems" der Internationalen Energieagentur IEA für die Erarbeitung von Annex 14, Annex 24, Annex 32 und Annex 41 verantwortlich. Er ist Mitglied der American Society of Heating, Refrigeration and Air Conditioning Engineers (ASHRAE).

See More