E-book
Mauerwerk: Bemessung nach DIN 1053-100
ISBN: 978-3-433-60168-6
557 pages
November 2012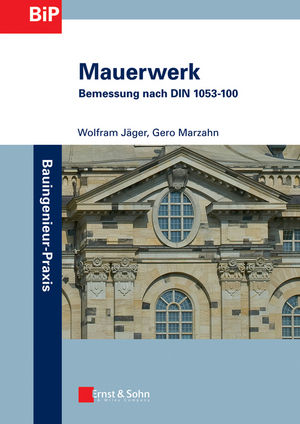 Design calculations and dimensioning of masonry according to the partial safety factor concept is required by the new standard part DIN 1053-100. This book is an introduction for its practice with background information from first hand with numerous examples.
See More
EINFUHRUNG
Geschichte und Entwicklung
MAUERWERKSBAUTEN
Ubersicht
Anforderungen an Wandkonstruktionen aus Mauerwerk
Klassifizierung von Wandkonstruktionen
Verbande und Verbandsregeln
NORMEN UND SICHERHEITSKONZEPT
Entwicklung der Normen fur die Berechnung von Mauerwerk
Semiprobabilistisches Sicherheitskonzept
Das Nachweisformat von DIN 1053-100
Normen fur Mauerwerk
Normen fur die Einzelkomponenten
BAUSTOFFE UND IHRE EIGENSCHAFTEN
Einfuhrung
Mauersteine
Mauermortel
Mauerwerk
MECHANISCHE FESTIGKEIT VON MAUERWERK
(Zentrische) Druckfestigkeit
Einzellasten und Teilflachenpressung
Zugfestigkeit von Mauerwerk
Biegezugfestigkeit
Schubfestigkeit
ERMITTLUNG DER SCHNITTGROSSEN UND FORMANDERUNGEN
Vorgehen
Grundsatze bei der Ermittlung von Schnittgro?en
Ermittlung der Schnittgro?en im vereinfachten Nachweisverfahren
Ermittlung der Schnittgro?en im genaueren Verfahren
Grundsatze bei der Berechnung der Formanderungen
RAUMLICHE AUSSTEIFUNG
Allgemeines
Anordnung der vertikalen Aussteifungselemente
Aussteifende Wande
Horizontale Einwirkungen
Horizontale Lasten auf Wandscheiben
Raumliche Steifigkeit gemauerter Gebaude
Beispiel einer Aussteifungsrechnung
GRUNDLAGEN DER BEMESSUNG
Grundlegende Nachweisverfahren
Ubergang auf die Kraftebene
Zentrische und exzentrische Druckbeanspruchung
Berucksichtigung von Einflussen aus Theorie II. Ordnung
Schubbeanspruchung
Zug- und Biegezugbeanspruchung
VEREINFACHTES NACHWEISVERFAHREN
Anwendungsgrenzen
Aussteifung und Knicklange von Wanden
Zentrische und exzentrische Druckbeanspruchungen
Einzellasten und Teilflachenpressung
Zug- und Biegezugbeanspruchung
Schubbeanspruchung
GENAUERES NACHWEISVERFAHREN
Allgemeines
Aussteifung und Knicklange
Zentrische und exzentrische Druckbeanspruchung
Einzellasten und Teilflachenpressung
Zug- und Biegezugbeanspruchung
Schubbeanspruchung
GRENZZUSTANDE DER GEBRAUCHHSTAUGLICHKEIT
Allgemeines
Begrenzung der planma?igen Exzentrizitaten
Nachweis der Randdehnung
SPEZIELLE KAPITEL DER MAUERWERKSBEMESSUNG
Knotenmomente am Wand-Decken-Knoten (WDK)
Kellerwande ohne Nachweis auf Erddruck
Giebelwande
Gewolbe und Ingenieurmauerwerk
NACHWEIS VON MAUERWERKSBAUTEN UNTER ERDBEBENEINWIRKUNG
Einfuhrung
Normative Regelungen
Erdbebenzonen und Untergrund
Vereinfachter konstruktiver Nachweis
Rechnerischer Nachweis
Weiterfuhrende Informationen
Komplexbeispiel Erdbeben
NATURSTEINMAUERWERK
Einleitung
Naturstein -
Entstehung, Eigenschaften und Einteilung
Natursteinbearbeitung
Mauerwerksverbande
Tragverhalten von Natursteinmauerwerk
Bemessung von Natursteinmauerwerk
KOMPLEXBEISPIEL
Ansichten und Plane
Inhaltliche und Bautechnische Erlauterungen
Pfettendach mit Firstgelenk
Zangendecke
Mittelpfette Suden
Schubwand
Standard-Hohlplatte Decke EG
Au?enwand
Standard-Hohlplatte Decke KG
Kellerwand Hobby
STICHWORTVERZEICHNIS
See More
Prof. Dr.-Ing. Wolfram Jager lehrt Tragwerksplanung an der TU Dresden und ist Inhaber eines Ingenieurburos. Er ist Obmann des DIN-Spiegelausschusses "Mauerwerksbau" und des DIN-Arbeitsausschusses "Rezept- und Ingenieurmauerwerk".
Dr.-Ing. Gero Marzahn hat als Mitglied der Forschungsgruppe "Mauerwerk" an der Universitat Leipzig viele Jahre im Fach Mauerwerksbau gelehrt und ist heute als Abteilungsleiter im Konstruktiven Ingenieurbau im Landesbetrieb Stra?enbau Nordrhein-Westfalen tatig.
See More