E-book
Turme und Brucken: Die neue Kunst des Ingenieurbaus
ISBN: 978-3-433-60396-3
298 pages
January 2014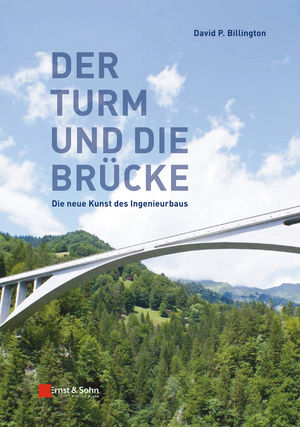 Long recognised as a classic in the USA, "The Tower and the Bridge" is now at last available in German translation. In his preface to the German edition, Jörg Schlaich writes. "This book is essential reading and a pleasure for the "structural engineering artist", in whose structures the connection between form and force flow is visible and which are distinguished by the ideals of efficiency, cost-effectiveness and elegance."
Billington founded with this book structural art as a new, independent art form, which he considers equivalent to architecture. It is no coincidence that the title states the two classic domains of the structural engineer; in this case Billington is referring to two outstanding structures of the epoch, the Eiffel Tower and the Brooklyn Bridge.
Billington describes in an easily readable style and in an entertaining manner the ideals, principles and methods of structural art during its historical development through examples of structures from outstanding engineers (e.g. Telford, Maillart, Freyssinet, Menn).
With the establishment of structural art as an art form and the explication of its inherent principles, Billington gives the reader well founded arguments for the aesthetic discussion of engineering structures. This also provides a basis for criticism of the new art form; for the criticism of construction that has long been demanded. This timeless book thus has the potential to give a new impulse to the debate about construction culture and particularly the aesthetic aspects of structural engineering in German-speaking countries.
See More
Geleitwort zur deutschen Ausgabe IX
Vorwort XI
1 Eine neue Tradition: Kunst im Ingenieurbau 1
Eine neue Kunstform
Die Ideale der Structural Art
Die Geschichte der Structural Art
Ingenieurbau und Wissenschaft
Bauwerke und Maschinen
Ingenieurbau und Architektur
Die drei Dimensionen von Bauwerken
Structural Art und die Gesellschaft
Teil 1 Das Zeitalter des Eisens
2 Thomas Telford und die neue Kunstform 23
Die zweite Eisenzeit
Thomas Telford und die Kunst der Brücke
Telford und die Grenzen des konstruktiv Machbaren
Kunst und Politik
Telfords Ästhetik
Wissenschaft und Ingenieurbau
3 Brunel, Stephenson und die Eisenbahn 39
Das Problem der Form
Robert Stephenson
Isambard Kingdom Brunel
Die Spannung zwischen Structural Art und Wirtschaft
Brunel und Stephenson
4 Gustave Eiffel und der Sichelbogen 53
Ein Turm und eine Ausstellung
Ingenieurbauwerk und Architektur
Gustave Eiffel
Der Crystal Palace von 1851 und die Pariser Weltausstellung 1867
Große Weiten, große Höhen
Die erste Sichelbogenbrücke: Douro
Die zweite Sichelbogenbrücke: Garabit
5 John Roebling und die Hängebrücke 64
Brunel und Roebling
Immigrant und Ingenieur
Roebling und die Grenzen des konstruktiv Machbaren
Die Ohio River Bridge
Roeblings Ideale
6 Die Brücke und der Turm 75
Höhepunkt und Aufklärung
Die Funktion folgt der Form
Die Kostenunsicherheit
Wirtschaftlichkeit und Kreativität
Structural Art und der Künstler
Vorläufige Gedanken zu Structural Art
Teil 2 Das neue Zeitalter von Stahl und Beton
7 Jenney und Root: Die erste Chicagoer Schule 89
Bürotürme
Gotik als Nostalgie
Wolkenkratzer und Kathedralen
Die erste Chicagoer Schule
William Le Baron Jenney
John Wellborn Root
Root und Sullivan
8 Große Stahlbrücken von Eads bis Ammann 101
Wolkenkratzer und Brücken
Chicago gegen St. Louis: Die Eads Bridge
Die Brücke über den Firth of Forth
Der Übergang: Gustav Lindenthal
Die Hell Gate Bridge
Moderne Formen aus Stahl: Othmar Ammann
Die George Washington Bridge
Wissenschaft und Konstruktion
Hell Gate und Bayonne
Zwei Visionen: Ammann und Steinman
9 Robert Maillart und neue Formen in Stahlbeton 135
Der Werkstoff des 20. Jahrhunderts
Deutsche Wissenschaft, französische Industrie
Die Schweizer Synthese
Robert Maillart
Neue Formen für Brücken
Neue Formen für Gebäude
10 Dachgewölbe und nationale Stile 157
Die Vorstellungskraft des Ingenieurs und lokale Traditionen
Dischinger, Finsterwalder und die deutsche Schule
Nervi und die italienische Tradition
Die spanische Schule: Gaudí, Torroja und Candela
Candela und die Tugend der Schlankheit
11 Eugène Freyssinets Leitgedanke 179
Ein neues Material
Eugène Freyssinet
Die Anfänge der Vorspannung in der freien Natur
Le Veurdre und die Ästhetik von Bögen
Dünne Gewölbeschalen: Orly und Bagneux
Freyssinet und Maillart
12 Arbeit und Spiel: Neue Betongewölbe 196
Formen und Formeln
Candela, Maillart und die Aversion gegen die Hässlichkeit
Die neue schweizerische Synthese
Heinz Islers Schalen
Isler und die wissenschaftliche Theorie
13 Neue Türme, neue Brücken 214
Wettbewerb und Spiel
Fazlur Khan und die Zweite Chicagoer Schule
Der Ausdruck des Tragwerks in hohen Gebäuden
Türme aus Beton
Türme aus Stahl
Khan und Teamarbeit
Der explosionsartige Ausbau der Fernstraßen
Christian Menn
Vom Felsenauviadukt zur Ganterbrücke
Die Konstruktion der Ganterbrücke
Demokratie und Konstruktion
Epilog: Ingenieurbau als Kunst 243
Konstruieren und Kunst
Konstrukteure und Künstler
Anmerkungen 251
Abbildungsverzeichnis 275
Stichwortverzeichnis 279
See More
David P. Billington lehrte über 50 Jahre lang an der Fakultät für Bauingenieurwesen der Universität Princeton, New Jersey, USA.
See More