E-book
Bauphysik-Kalender 2013: Schwerpunkt - Nachhaltigkeit und Energieeffizienz
ISBN: 978-3-433-60501-1
704 pages
July 2014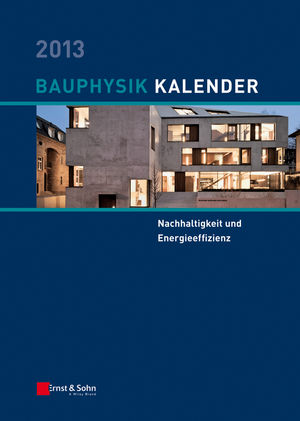 Aspects of sustainability now determine the direction of futuristic building designs. Parts 1 to 10 of the energy efficiency standard DIN V 18599 are commented for the practice. In addition: certification systems and building energy standards for the evaluation of sustainability.
See More
A Allgemeines und Regelwerke
A 1 Nachhaltiges Bauen – Beitrag des Bauwesens zur Nachhaltigkeit 3
Andreas Rietz, Nicolas Kerz, Tanja Brockmann, Olaf Bçttcher
A 2 Von der Energieeffizienzbewertung zur Nachhaltigkeitsbeurteilung 31
Andreas Wagner, Thomas Lützkendorf
A 3 Lebenszyklusorientierte Planung – Grundlagen, Methoden und Fallstudien 43
Lamia Messari-Becker
A 4 Nachhaltige Energieversorgung – das Potenzial der Windenergie 57
Andreas Reuter, Britta Rollert
A 5 Anwendung nationaler und internationaler Nachhaltigkeitsbewertungssysteme in Deutschland 69
Carmen Schneider, Alexander Wronna, Torsten Mielecke
B Materialtechnische Grundlagen
B 1 Dämmstoffe im Bauwesen 93
Wolfgang M. Willems, Kai Schild
B 2 Lastabtragende Wärmedämmungen aus Polystyrol-Hartschaumstoffen 169
Nabil A. Fouad, Ehab F. Sadek
C Bauphysikalische Planungs- und Nachweisverfahren
C 1 Bilanzierungsverfahren nach der neuen DIN V 18599 (DIN V 18599-1) 209
Hans Erhorn, Kati Jagnow
C 2 Nutzenergiebedarf für Heizen und Kühlen (DIN V 18599-2) 251
Anton Maas, Kirsten Hçttges
C 3 Nutzenergie der thermischen Luftaufbereitung – Neuausgabe der DIN V 18599-3 (2011) 275
Heiko Schiller
C 4 Nutz- und Endenergiebedarf für Beleuchtung (DIN V 18599-4) 287
Jan de Boer
C 5 Endenergiebedarf für Heizsysteme und Warmwasserbereitungssysteme (DIN V 18599-5 und 8) 333
Kati Jagnow, Dieter Wolff
C 6 Endenergiebedarf von Lüftungsanlagen, Luftheizungsanlagen und Kühlsystemen für den Wohnungsbau (DIN V 18599-6) 363
Thomas Hartmann, Wilhelm Reiners
C 7 Endenergiebedarf von Raumlufttechnik und Klimasystemen für den Nichtwohnungsbau (DIN V 18599-7) 387
Claus Händel
C 8 Ermittlung des End- und Primärenergieverbrauchs bei Kraft-Wärme-gekoppelten Systemen (DIN V 18599-9) 401
Peter Loose
C 9 Nutzungsrandbedingungen, Klimadaten (DIN V 18599-10) 415
Anton Maas, Kirsten Hçttges
C 10 Wärmebrücken: Berechnung – Bewertung – Vermeidung 429
Wolfgang M. Willems, Kai Schild
D Konstruktive Ausbildung von Bauteilen und Bauwerken
D 1 Nachhaltigkeit – Vergleich verschiedener energetischer Gebäudestandards 471
Frank U. Vogdt, Kathleen Schwabe, Juliane Nisse
D 2 Nachhaltige Energiekonzepte für Nichtwohngebäude: Forschungsprojekt geothermisches Monitoring 519
Dirk Bohne, Gunnar Harhausen, Matthias Wohlfahrt
D 3 Leichte Dreifach-Verglasungen mit sommerlichem Überhitzungsschutz 541
Federico Giovannetti, Nabil A. Fouad, Gunter Rockendorf
D 4 Minimalinvasive Sanierung mit vorgefertigten, multifunktionalen Fassadenmodulen 563
Michael Krause, Horst Stiegel
D 5 Energetische Stadtsanierung und Klimaschutz 581
Dieter D. Genske, Lamia Messari-Becker
E Materialtechnische Tabellen
E Materialtechnische Tabellen 609
Rainer Hohmann
Stichwortverzeichnis 687
See More
Der Herausgeber Univ.-Prof. Dr.-Ing. Nabil A. Fouad ist seit 2001 Professor an der Leibniz Universitat Hannover und leitet dort das Institut fur Bauphysik. N. A. Fouad ist o. b. u. v. Sachverstandiger fur Bauphysik und vorbeugenden Brandschutz und seit 2003 Gesellschafter der Ingenieurgemeinschaft CRP GmbH.
Seine Erfahrungen in einem breiten Spektrum des Bauingenieurwesens aus langjahrigen Tatigkeiten in verschiedenen Planungsburos garantieren die Praxisnahe der von ihm ausgewahlten Autoren und Themen fur den Bauphysik-Kalender.

See More