E-book
Bauphysik-Kalender 2011: Brandschutz
ISBN: 978-3-433-60560-8
684 pages
August 2014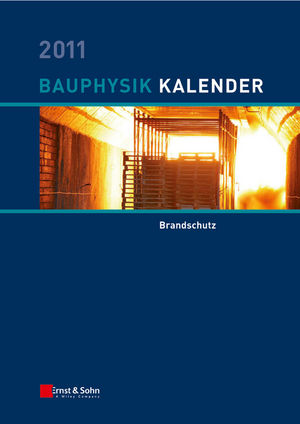 Fire protection in construction requires a high degree of expert knowledge about the current state of all relevant codes and products.
The 2011 Building Physiscs Yearbook offers a reliable aid in planning for new and existing structures according to Eurocodes.
See More
ALLGEMEINES UND REGELWERKE
Brandschutz im Bauordnungrecht (Gabriele Famers)
Europäische Harmonisierung im Brandschutz (Irene Herzog, Peter Proschek)
Bauaufsichtliche Regelungen zum Verwendbarkeitsnachweis (H.-J. Irmschler)
Leistungsbild und Honorierung für den Brandschutz (Udo Kirchner)
MATERIALTECHNISCHE GRUNDLAGEN
Kunststoffe und Brandschutz (Edith Antonatus)
Brandschutzbekleidungen und -beschichtungen (Peter Proschek)
BAUPHYSIKALISCHE PLANUNGS- UND NACHWEISVERFAHREN
Ingenieurmethoden im Brandschutz (Ulrich Schneider, Christian Lebeda)
Numerische Brandsimulation im Brandschutz (Hendrik C. Belaschk, Rupert Klein, Matthias Münch)
Perspektiven der Evakuierungsberechnung (Michael Schreckenberg)
Brandschutz im Industriebau (Ulrich Schneider, Marita Kersken-Bradley, Hubert Kirchberger)
Grundlagen nach Eurocode 1 (Björn Kampmeier)
Brandschutzbemessung von Betonbauteilen nach Eurocode 2 (Ekkehard Richter, Björn Kampmeier)
Brandschutztechnische Bemessung im Stahl- und Stahlverbundbau nach Eurocode 3 und 4 (Peter Schaumann, Florian Tabeling, Thomas Kirsch)
Brandschutzbemessung von Holzbauteilen nach Eurocode 5 (Björn Kampmeier)
Sicherheitskonzept zur Brandschutzbemessung -
Erprobung und Validierung im Stahl- und Stahlverbundbau (Peter Schaumann, Jörg Sothmann, Dietmar Hosser, Cornelius Albrecht, Hans-Werner Girkes)
KONSTRUKTIVE AUSBILDUNG VON BAUTEILEN UND BAUWERKEN
Brandschutz in Hochhäusern -
Kommentar zur Muster-Hochhaus-Richtlinie -
MHHR (Gerd Gröger)
Brandschutz für Schulen und Kindergärten -
Bestand und Sanierung (Sylvia Heilmann)
Brandschutz im Krankenhaus (Herbert Tschöpe, Axel Gäfke)
Brandschutz bei hölzernen Bauteilen nach den nationalen Regeln /
Brandschutzkonzepte bei hölzernen Bauwerken (Michael Dehne, Dirk Kruse, Björn Kampmeier)
Brandschutz im Bestand (Jürgen Wesche)
MATERIALTECHNISCHE TABELLEN
Materialtechnische Tabellen für den Brandschutz (Ulrich Schneider, Nina Schjerve)
Materialtechnische Tabellen (Rainer Hohmann)


















See More
Der Herausgeber Univ.-Prof. Dr.-Ing. Nabil A. Fouad ist seit 2001 Professor an der Leibniz Universität Hannover und leitet dort das Institut für Bauphysik. N. A. Fouad ist ö. b. u. v. Sachverständiger für Bauphysik und vorbeugenden Brandschutz und seit 2003 Gesellschafter der Ingenieurgemeinschaft CRP GmbH.
Seine Erfahrungen in einem breiten Spektrum des Bauingenieurwesens aus langjährigen Tätigkeiten in verschiedenen Planungsbüros garantieren die Praxisnähe der von ihm ausgewählten Beiträge für den Bauphysik-Kalender.

See More