E-book
Bauphysik-Kalender 2016: Schwerpunkt: Bauwerksabdichtung
ISBN: 978-3-433-60694-0
696 pages
June 2016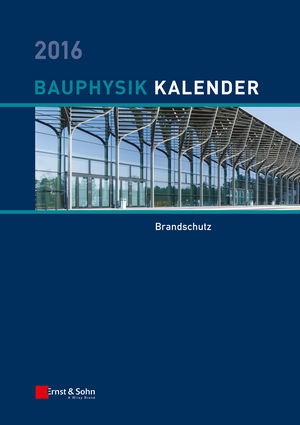 Preventative fire protection means the overall consideration of constructional, plant and organisational measures taking into account the use-related danger potential and the aims of protection. Current overview and background knowledge about guidelines and practical examples.
See More
ALLGEMEINES UND REGELWERKE
Neufassung des Brandschutzleitfadens fur Gebaude des Bundes (Paul Schmitz)
Europaische Harmonisierung im Brandschutz (Peter Proschek)
Bauordnungsrechtliche Regelungen zur Verwendung von Bauprodukten (Peter Proschek)
Leistungsbild und Honorierung im Brandschutz 2015 (Udo Kirchner)
Brandschutzbedarfsplanung fur Kommunen (Manfred Fennen)
Brandschutz aus zivilrechtlicher Sicht (Klaus-Udo Reichelt)
MATERIALTECHNISCHE GRUNDLAGEN
Brandschutz von Baukonstruktionen mit Kunststoffen (Edith Antonatus)
Brandschutzbekleidungen und -beschichtungen (Peter Proschek)
BAUPHYSIKALISCHE PLANUNGS- UND NACHWEISVERFAHREN
Ingenieurmethoden im Brandschutz (Nina Schjerve, Christian Lebeda, Ulrich Schneider)
Grundlagen nach Eurocode 1 (Jochen Zehfu?)
Brandschutzbemessung von Betonbauteilen nach Eurocode 2 (Jochen Zehfu?, Bjorn Kampmeier, Ekkehard Richter)
Brandschutztechnische Bemessung im Stahl- und Stahlverbundbau nach Eurocode 3 und 4 (Peter Schaumann, Florian Tabeling, Thomas Kirsch)
Brandschutzbemessung von Holzbauteilen nach Eurocode 5 (Bjorn Kampmeier)
Brandschutzbemessung von Mauerwerkskonstruktionen nach Eurocode 6 (Thorsten Mittmann)
KONSTRUKTIVE AUSBILDUNG VON BAUTEILEN UND BAUWERKEN
Brandschutzkonzepte fur Versammlungsstatten -
Versammlungsstattenverordnung (VStattVO) (Jochen Zehfu?, Karsten Foth, Christoph Klinzmann)
Brandschutz bei holzernen Bauteilen nach den nationalen Regeln /
Brandschutzkonzepte bei holzernen Bauwerken (Michael Dehne, Dirk Kruse, Bjorn Kampmeier)
Naturliche Entrauchung mit NRA (Gary Blume, Thomas Hegger)
Maschinelle Entrauchung mit MRA (Gary Blume, Frank Wahl)
Sachgerechte Risikobewertung fur Brandschutzkonzepte (Udo Kirchner)
Brandschutz bei Warmedamm-Verbundsystemen (Thomas Merkewitsch, Nabil A. Fouad)
Flachen fur die Feuerwehr, Loschwasserversorgung und Loschwasserruckhaltung (Manfred Fennen)
Abweichungen bei Bestandsbauten (Sven Schmieder)
Umgang mit Abweichungen bei Bestandsgebauden (Eckhard Hagen, Jens Upmeyer)
Fehler in der Brandschutzplanung (Sylvia Heilmann)
MATERIALTECHNISCHE TABELLEN
Materialtechnische Tabellen fur den Brandschutz (Nina Schjerve, Ulrich Schneider)
Materialtechnische Tabellen (Rainer Hohmann)

See More
Der Herausgeber Univ.-Prof. Dr.-Ing. Nabil A. Fouad ist seit 2001 Professor an der Leibniz Universitat Hannover und leitet dort das Institut fur Bauphysik. N. A. Fouad ist o. b. u. v. Sachverstandiger fur Bauphysik und vorbeugenden Brandschutz und seit 2003 Gesellschafter der Ingenieurgemeinschaft CRP GmbH.
Seine Erfahrungen in einem breiten Spektrum des Bauingenieurwesens aus langjahrigen Tatigkeiten in verschiedenen Planungsburos garantieren die Praxisnahe der von ihm ausgewahlten Beitrage fur den Bauphysik-Kalender.

See More