Encyclopedia of Molecular Cell Biology and Molecular Medicine, Volume 2, 2nd Edition
ISBN: 978-3-527-30544-5
Hardcover
696 pages
April 2004, Wiley-Blackwell
US $550.00

Add to Cart
This price is valid for United States. Change location to view local pricing and availability.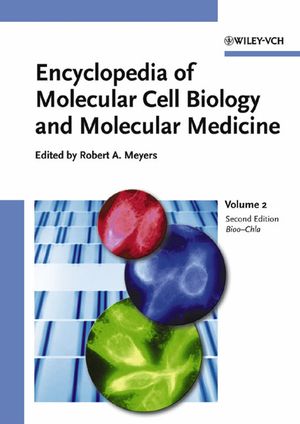 Preface.
Editor-in-Chief.
Editorial Board.
Contents.
List of Contributors.
Color Plates.
Bioorganic Chemistry (Simon H. Friedman).
Bioprocess Engineering (Kimberly L. Ogden).
Biotransformations of Drugs and Chemicals (Paul R. Ortiz de Montellano).
Body Expression Map of Human Genome (Shinichi Morishita, Asao Fujiyama).
Brain Development (Takayoshi Inoue).
Calcium Biochemistry (Joachim Krebs).
Cancer Chemotherapy, Theoretical Foundations of (Nicholas B. La Thangue).
Cancer of the Prostate: Molecular Genetics (Rajvir Dahiya).
Cancer Stem Cells (Michael F. Clarke, Andrew T. Hass).
Carbohydrate Analysis (Martin F. Chaplin).
Carbohydrate Antigens (Denong Wang).
Cell Growth in Microgravity (Alamelu Sundaresan, Diana Risin, Neal R. Pellis).
Cell Junctions, Structure, Function, and Regulation (Susan E. LaFlamme, Peter A. Vincent).
Cell Nucleus Biogenesis, Structure and Function (Dean A. Jackson).
Cell Signaling During Primitive Hematopoie sis (Devorah C. Goldman and Jan L. Christian).
Cell-free Translation Systems (Takuya Ueda, Akio Inoue, Yoshihiro Shimizu).
Cellular Interactions (Brian A. Koeneman and David G. Capco).
Chaperones, Molecular (Peter Lund).
Chemiluminescence and Bioluminescence, Analysis by (Larry J. Kricka).
Chicken Genome (Cheryll Tickle, David W. Burt).
Chimpanzee Genome (Ingo Ebersberger).
Chirality in Biology (Ronald Bentley).
Chlamydomonas (Jean-David Rochaix).
Glossary of Basic Terms.
The Twenty Amino Acids that are Combined to Form Proteins in Living Things.
The Twenty Amino Acids with Abbreviations and Messenger RNA Code Designations.
Complementary Strands of DNA with Base Pairing.