Life Sciences for the 21st Century
ISBN: 978-3-527-30588-9
372 pages
February 2004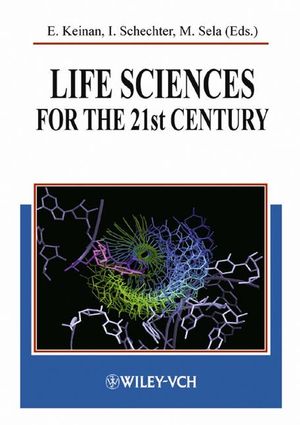 Which ones are the currently most dynamic areas in the Life Sciences? And where do future challenges lie, as we enter the new millennium? Discover how top-of-the-league scientists view the current state of their discipline and where they expect the next important breakthroughs to occur.

In a carefully selected collection of essays, world-class scientists, all of them awardees of the prestigious Nobel, Lasker or Wolf prizes, describe ground-breaking developments in their particular area of expertise.
The selection of topics is as diverse and colorful as life itself.
Will advances in molecular biology allow us to learn all about the cell's internal workings?
What are the prospects of molecular medicine for the treatment of cancer and other diseases?
How will agriculture develop in the era of transgenic plants?
How will life on our planet be transformed as the human population continues to increase?

The present collection of insightful essays provides fascinating reading for everyone with an active interest in the life sciences. Founded on hard facts as well as on scientific intuition, those who should know best explore today's possibilities and set the goals for future research, creating a unique vision of "Life Sciences for the 21st century".

See More
Ribosomes, the Machines of Life
RNaseP: Variations and Uses
The Antiquity of RNA-based Evolution
Aminoacyl tRNA Synthetases as Potential Markers for the Development of the Genetic Code
The Ubiquitin-mediated Proteolytic System
How Proteins Speak With One Another in Cell Signaling
From Tyrphostins to Gleeve: Signal Transduction Therapy
Protein Phosphorylation: What does the Future Hold?
The Concept of Specificity in Peptide Vaccines for Infectious, Autoimmune and Neoplastic Diseases
The Prospect of Cell Replacement Therapy by Nuclear Transplantation
The Control of Hematopoiesis and Leukemia: From Basic Biology to the Clinic
No Future for Agriculture Without Plant Biotechnology
The Phantom Vector of an Emerging Viroid
From Rapeseed to Canola
Future of Maize Improvement
Population Dynamics in Evolutionary Ecology

See More
"...represents excellent value for a researcher and others with an active interest in the life sciences."
Chemistry & Industry

"In summary, the book is without any doubt very stimulating and informative for all scientists who wish to get a quick view of some of the major current topics of life sciences without having a special scientific background in each area."
Angewandte Chemie I.E.

"This book meets the editors' aim as a means to come abreast of recent developments both within and outside their specific disciplines."
Clinical Chemistry



See More