Encyclopedia of Molecular Cell Biology and Molecular Medicine, Volume 12, Recombination and Genome Rearrangements to Serial Analysis of Gene Expression, 2nd Edition
ISBN: 978-3-527-30649-7
796 pages
October 2005, Wiley-Blackwell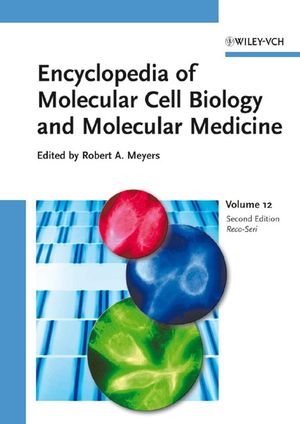 This second edition of the
Encyclopedia of Molecular Cell Biology and Molecular Medicine
covers the molecular and cellular basis of life, disease, and therapy at university and professional researcher level. With its 16 volumes, this is the most comprehensive and detailed treatment of molecular cell biology and molecular medicine available today. It represents a single source library for
Molecular Biologists
Cell Biologist
Biochemists
Structural Biologists
Gene Technologists
Developmental Biologists
Medicinal Chemists
Physicians
Biotechnologists
Pharmacologists
An Editorial Board composed of renowned experts from all over the world – Nobel laureates, including the 2007 Nobel Prize winner in medicine, Sir Martin Evans, Lasker Award winners and directors of prestigious institutes and university departments – guarantees the high quality and comprehensive scope of this work. All major disciplines comprising and supporting molecular cell biology and molecular medicine are covered in true Encyclopedic detail.
Each of the over 400 articles is conceived as a self-contained treatment and begins with an outline and a keyword section, including definitions. Descriptive illustrations – many in colour -, informative tables and a glossary of basic terms in each volume enable readers to understand articles without the need to consult a dictionary, textbook or other work. Numerous cross-references and a comprehensive bibliography round off every article.
Praise from the reviews:
"... It goes without saying that no library can afford to be without this new edition. Everyone working in the areas of molecular biology, genome research, medical science, or clinical research needs to have access to these volumes... " Angewandte Chemie
"... an authoritative reference source of the highest quality… It is extremely well written and well illustrated..."American Reference Books Annual (Library & Information Science Annual - on the first edition)
For further details please visit our homepage at www.meyers-emcbmm.de 
See More
Preface.
Editor-in-Chief.
Editorial Board.
List of Contributors.
Color Plates.
Recombination and Genome Rearrangements (Hannah L. Klein).
Regulation of Stem Cell (Anil Kumar).
Regulation of Stem Cell Populations (Daniela Drummond-Barbosa).
Regulome (Miguel A. Andrade, Michael A. Rudnicki).
Repair and Mutagenesis of DNA (Raymond Devoret).
Repetitive Sequence and Noncoding DNA Evolution in Eukaryotes (Josep M. Comeron).
Replication and the Cell Cycle (Helena E. Richardson, Leonie M. Quinn, Nancy Amin, Anabel Herr, Julie Secombe, Anthony M. Brumby, Kathryn M. Doyle, Patrick O. Humbert).
Reporter Gene System: Green Fluorescent Protein (Boon Chuan Low, Zhiyuan Gong).
Reproduction of Plants (Jaroslava Dubová, Jan Hejáatko, Jiří Friml).
Respiratory Syncytial Virus Vaccine (Edward E. Walsh).
Restriction Endonuclease and DNA-Modification Methyltransferases (Albert Jeltsch, Richard I. Gumport).
Retinoblastoma, Molecular Genetics of (Vivette D. Brown, Brenda L. Gallie).
Retinoids and the Chemical Biology of the Visual Cycle (Robert R. Rando).
Retrovirus Integration, Biological and Biochemical Machineries for (Duane Grandgenett, Sibes Bera).
Rhythmic and Temporal Processes in Biology (Russell G. Foster, Stuart Peirson, David Whitmore).
Ribosome, High Resolution Structure and Function (Christiane Schaffitzel, Nenad Ban).
Ribozymes (Joyce E. Heckman).
RNA Interference (John G. Doench, Carl Novina).
RNA Methodologies (Robert E. Farrell, Jr.).
RNA Secondary Structures (IvoL. Hofacker,PeterF. Stadler).
RNA Three-Dimensional Structures, Computer Modeling of (François Major, Philippe Thibault).
Sense of Smell (Robert P. Lane, Gregory S. Smutzer, Richard L. Doty).
Serial Analysis of Gene Expression (Jacques Marti, Jean-Marc Elalouf).
Glossary of Basic Terms.
The Twenty Amino Acids that are Combined to Form Proteins in Living Things.
The Twenty Amino Acids with Abbreviations and Messenger RNA Code Designations.
Complementary Strands of DNA with Base Pairing.
See More
Robert A. Meyers
earned his Ph.D in organic chemistry from the
University of California Los Angeles
, was a post-doctoral fellow at California Institute of Technology and manager of chemical processes for TRW Inc. He has published in
Science
, written or edited 12 scientific books and his research has been reviewed in the
New York Times
, and the
Wall Street Journal
. He is one of the most prolific science editors in the world having originated, organized and served as Editor-in-Chief of three of the
Encyclopedia of Physical Science and Technology
, the
Encyclopedia of Analytical Chemistry
and two editions of the present
Encyclopedia of Molecular Cell Biology
and
Molecular Medicine
.
See More