Amyloid Proteins: The Beta Sheet Conformation and Disease, 2 Volume Set
ISBN: 978-3-527-31072-2
799 pages
September 2005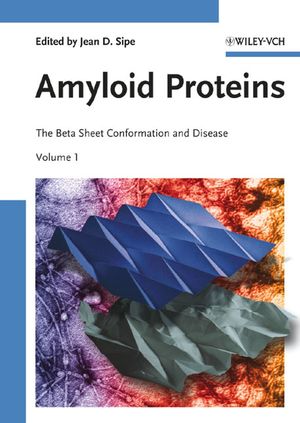 A first-stop reference on proteins associated with amyloidosis.
This book is the first to present a systematic overview of all known fibril-forming proteins, including their biochemical characteristics and pathophysiology. It considers the clinically recognized amyloid proteins that are known to be associated with the amyloid protein folding disorders, dealing with their common structural and thermodynamic features that lead to amyloid fibril formation and disease. Emphasis is on the thermodynamics of protein folding, the structure and physiologic effects of common oligomeric and subfibrillar intermediates and the influence of the extracellular matrix and cellular trafficking and metabolism on the genesis and catabolism of beta pleated sheet proteins.
The chapters on specific amyloid proteins all follow a common structure, allowing quick access to the desired biochemical and medical data, making this an invaluable tool for clinicians and researchers alike.
See More
Volume 1
Preface XXI
List of Contributors XXIII
Part I Overview of Amyloidosis and Amyloid Proteins
1 Amyloidosis and Amyloid Proteins: Brief History and Definitions 3
Per Westermark
2 Anatomic and Clinical Clues to In Vivo Mechanisms of Amyloidogenesis 29
Vittorio Bellotti, Laura Obici, Robert Kisilevsky and Giampaolo Merlini
Part II Protein Structure and the Beta Pleated Sheet Conformation
3 The β-pleated Sheet Conformation and Protein Folding: A Brief History 49
Jean D. Sipe
Part III Protein Folding, Unfolding and Refolding
4 Thermodynamics and Protein Folding 65
Ilia V Baskakov
5 Role of Post-translational Chemical Modifications in Amyloid Fibril Formation 81
Melanie R. Nilsson
6 Lipid Modulators of Protein Misfolding and Aggregation 111
Christopher A. MacRaild and Geoffrey J. Howlett
7 Extracellular Matrix Heparan Sulfate Proteoglycans 131
Peter J. Neame and John T. Gallagher
8 Serum Amyloid P Component 169
David C. Kilpatrick
9 Serum amyloid P Component – Structural Features and Amyloid Recognition 189
S. P. Wood and A. R. Coker
10 Apolipoprotein E: Structural and Functional Interactions with Amyloid β 211
W. Blaine Stine Jr. and Mary Jo LaDu
Part IV Pathway to Amyloid Fibril Formation
11 Pathways to Amyloid Fibril Formation: Partially Folded Intermediates in the Fibrillation of Natively Unfolded Proteins 247
Vladimir N. Uversky and Anthony L. Fink
12 Structural Intermediates of Globular Proteins as Precursors to Amyloid Formation 275
Daniel F. Moriarty and Wilfredo Colón
13 Computational Approaches and Tools for Establishing Structural Models for Short Amyloid-forming Peptides 301
Nurit Haspel, David Zanuy, Hui-Hsu (Gavin) Tsai, Buyong Ma, Haim Wolfson and Ruth Nussinov
Part V Pathophysiology of Amyloid Fibril Formation
14 Oligomers and Cellular Toxicity 319
Bruce Kagan
15 The Future of Molecular Diagnostics and Targeted Therapeutics in the Amyloidoses 343
David C. Seldin
16 Brain Dysfunction Associated with Amyloid Fibrils and Other Aggregated Proteins 355
Giorgio Giaccone, Mario Salmona, Fabrizio Tagliavini and Gianluigi Forloni
Volume 2
Part VI Amyloid Proteins Brain 385
17 The Amyloid β Protein 385
Noel D. Lazo, Samir K. Maji, Erica A. Fradinger, Gal Bitan and David B. Teplow
18 Prion Protein 493
Philippe Derreumaux
19 Familial British and Danish Dementias 515
Jorge Ghiso, Agueda Rostagno, Yasushi Tomidokoro, Tammaryn Lashley, Janice L. Holton, Gordon Plant, Tamas Revesz and Blas Frangione
Systemic 527
20 Immunoglobulin 527
Fred J. Stevens
21 Transthyretin 571
Ana Margarida Damas and Maria João Saraiva
22 High-Density Lipoprotein Amyloid Proteins 589
Barbara Kluve-Beckerman
23 Gelsolin 625
Hadar Benyamini, Kannan Gunasekaran, Haim Wolfson and Ruth Nussinov
24 Lysozyme 635
Mireille Dumoulin, Vittorio Bellotti and Christopher M. Dobson
25 Fibrinogen 657
Gilles Grateau and Marc Delpech
26 β2-Microglobulin 667
Thomas R. Jahn and Sheena E. Radford
27 Cystatin C 697
Mariusz Jaskolski and Anders Grubb
Hormone 723
28 Endocrine Amyloid 723
Gunilla T. Westermark
Glossary of Terms 755
Subject Index 759
See More
Jean D. Sipe earned her Ph.D. in Chemistry from the University of Maryland in 1971. She held various positions at the NIH before moving to Boston University in 1980, where she became full professor in 1991. Since 1997 she is also Scientific Review Administrator at the NIH's Center for Scientific Review.
Dr. Sipe is a founding editor of the Journal "Amyloid" and was instrumental in establishing a new Gordon Conference on Serum Amyloid A and Amyloidosis.
See More
Buy Both and Save 25%!
Amyloid Proteins: The Beta Sheet Conformation and Disease, 2 Volume Set (US $615.00)
-and- Protein Folding Handbook, Five-Volume Set (US $2,215.00)
Total List Price: US $2,830.00
Discounted Price: US $2,122.50 (Save: US $707.50)
Cannot be combined with any other offers. Learn more.