Process Development: From the Initial Idea to the Chemical Production Plant
ISBN: 978-3-527-31089-0
492 pages
May 2005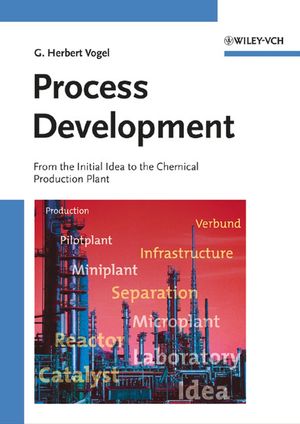 Guiding readers through all steps of the complex process, this book covers the most diverse aspects of chemicals production, including those not or insufficiently covered in natural science courses. These comprise economic feasibility, patenting and licensing, demands on the location and the problem of waste disposal.
Throughout, the author does not rely on simple references to other literature but instead reiterates many facts and places them in context, as well as succinctly explaining formulas, thus removing the need to look up items in secondary reference works.
As such, the book is suitable for both newcomers as well as those already working in the field. Those working in R&D as well as plant managers will learn how to avoid pitfalls, resulting in higher safety. A common basis and indispensable ready reference for engineers and chemists.
See More
INTRODUCTION
The Objective of Industrial Research and Development
The Production Structure of the Chemical Industry
The Task of Process Development
THE CHEMICAL PRODUCTION PLANT AND ITS COMPONENTS
Catalyst
Reactor
Thermal and Mechanical Separation Processes
Pipeline Systems, Pumps, Compressors
Energy Supply
Process Automation
Material Supply and Storage
Residue-Disposal Situation
Plant Safety
Selection of Material
PROCESS DATA
Chemical Mechanism
Mass Balance
Physico-Chemical Data
Processing
Patenting and Licensing Situation
Development Costs
Location
Market Situation
Raw Materials
Plant Capacity
Waste-Disposal Situation
End Product
THE COURSE OF PROCESS DEVELOPMENT
The Iterative Nature of Process Development
Drawing up an Initial Version of the Process
Checking the Individual Steps
Microplant - an Intermediate Step Between Lab an Pilot Plant
Testing the Entire Process on a Small Scale
PLANING, BUILDING-UP AND DRAWING-UP A CHEMICAL PRODUCTION PLANT
General Course of a Project
Important Aspects of a Project
Commissioning
Start-up
PROCESS EVALUATION
Preparation of Study Reports
Return on Investment
Economic Risk

See More
Born in 1951 near Gross-Gerau, Germany, G. Herbert Vogel served an apprenticeship at Rohm & Haas before going on to study chemical engineering at Darmstadt Polytechnic and chemistry at Darmstadt Technical University, where he obtained his doctorate in 1982 in physical chemistry under Alarich Weiss. Between 1982 and 1993 he was employed at BASF AG in Ludwigshafen, working on the development, planning, construction and installation of petrochemical production plants. In 1993, he succeeded Fritz Fetting as Professor for Chemical Engineering at Darmstadt TU. His research interests are heterogeneous catalysis, chemistry under supercritical conditions and renewable primary products.
See More