Handbook of Dendritic Cells: Biology, Diseases and Therapies, 3 Volume Set
ISBN: 978-3-527-31109-5
1290 pages
March 2006, Wiley-Blackwell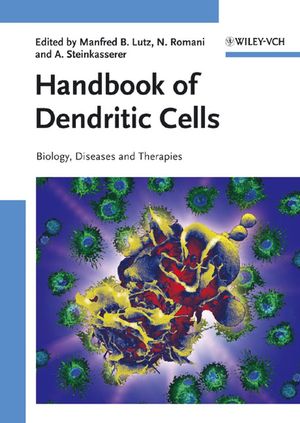 This is the most comprehensive handbook on dendritic cells, featuring an introduction by Ralph M. Steinman and written by top experts. In three volumes, it covers all aspects from molecular cell biology to clinical applications, highlighting the role of dendritic cells in fighting cancer, virus infections, and autoimmune diseases.
The first section on cell biology looks at dendritic cell development, circulating cells, T cell priming, Th1 and Th2 decision and CTL priming. A second part on dendritic cells in disease deals with parasites, bacteria, viruses, autoimmunity, allergies, asthma and cancer. The final section on therapeutic applications includes viral infections and antigen delivery.
See More
DENDRITIC CELL BIOLOGY
Introduction to some of the Issues and Mysteries Considered in this Book on Dendritic Cells
Dendritic Cell Development
-
Bone Marrow Progenitors of Natural Interferon Producing and Dendritic Cells
-
Growth Factors
-
Transcription Factors
Sentinel Dendritic Cells in Non-lymphoid Organs
-
Epidermal Langerhans Cells
-
Characterization of DC and other APC in the Eye
-
Toll-like Receptors
-
C-type Lectins on Dendritic Cells: Antigen Receptors and Modulators of Immune Response
-
Scavenger Receptors on Dendritic Cells
-
Production of the Long Pentraxin PTX-3 by Myeloid Dendritic Cells: Linking Celluar and Humoral Innate Immunity
-
Gene Profiling of Dendritic Cells During Host-pathogen Interactions
Dendritic Cells in Secondary Lymphoid Organs
-
Dendritic Cell Subtypes
Circulating DC and their precursors
- pDC: From Plasmacytoid Dendritic Cell Precursors to Professional Type 1Interferon-producing Cells
-
Monocyte Subsets and their Relation to DCs
Dendritic Cell Migration
-
Steady State Migration of Dendritic Cells in Lymph
-
Multiple Pathways to Control DC Migration
T Cell Activation and Costimulation
-
CD1d & NKT Cells
-
The Role of Dendritic Cells in T Cell Activation and Differentiation
-
Cytokines Produced by Dendritic Cells
Th1 and Th2 Decision
-
The Plasticity of DC Populations in Promoting Th Cell Responses
-
Microbial Instruction of Dendritic Cells
CTL Priming and Crosspresentation
-
Crossprocessing & Crosspresentation
-
A Systems Biologist's View on Dendritic Cells
DC Crosstalk with Other Cell Types
-
Dendritic Cells and Natural Killer Cells
-
Intercellular Communication via Protein Transfer
Tolerogenic Dendritic Cells
-
Differentiation Stages and Subsets of Tolerogenic Dendritic Cells
-
Dendritic Cell Manipulation with Biological and Pharmalogical Agents to Induce Regulatory T Cells
-
Surface Molecules Involved in the Induction of Tolerance by Dendritic Cells
-
Interaction Between Dendritic Cells and Apoptotic Cells
-
Pharmacologically Modified Dendritic Cells: A Route to Tolerance Associated Genes
DENDRITIC CELLS IN DISEASE
Parasites
-
Malaria
-
Dendritic Cells in Leishmaniasis: Regulators of Immunity and Tools for New Immune Intervention Strategies
-
Sentinel and Regulatory Functions of Dendritic Cells in the Immune Response to Toxoplasma Gondii
-
Schistosoma
Bacteria
-
Dendritic Cells and Immunity to Salmonella
-
Dendritic Cells in Tubercolosis
-
Dendritic Cell-epithelial Cell Interactions in Response to Intestinal Bacteria
Viruses
-
Sleeping with the Enemy: The Insidious Relationship Between Dendritic Cells and Immunodeficiency Viruses
-
Cytomegalovirus Infection of Dendritic Cells
-
Interactions of Hemorrhagic Fever Viruses with Dendritic Cells
-
Dendritic Cells in Measles Virus Pathogenesis
-
Dendritic Cells and Herpes Simplex Virus Type 1
-
EBV
Fungi
-
Dendritic Cells in Immunity and Vaccination to Fungi
Autoimmunity
-
Dendritic Cells in Autoimmune Diseases
Transplantation
-
Role of Dendritic Cells in Graft Rejection and Graft-versus-host-disease
-
Dendritic Cells and Transplantation Tolerance
-
Dendritic Cells, Immune Regulation and Transplant Tolerance
Allergy, Asthma
-
Nickel Presentation to T Cells in Contact Hypersensivity
-
Dendritic Cells in Asthma
Cancer
-
Dendritic Cells in Human Cancer
THERAPEUTICAL APPLICATION OF DENDRITIC CELLS
Cancer
-
DC Subsets as Targets and Vectors for Vaccination
-
Renal Cell Carcinoma
Antigen delivery
-
Cross Presentation and Loading of Tumor Antigens for Dendritic Cell Vaccination against Cancer
-
Nucleic Acid Transfer

See More
Manfred B. Lutz (born 1961) grew up in the Black Forest in the Southwest of Germany where he also studied pharmacy in Freiburg (1984 -1989). After his PhD in Immunology with Bruno Kyewski at the German Cancer Research Center in Heidelberg, he first contacted dendritic cells in 1993 when he joined Paola Ricciardi-Castagnoli's lab in Milano, Italy. Since 1996 he works at the Department of Dermatology with Gerold Schuler in Erlangen, where he is currently leading a research group. He became Assistant Professor in 2001.


Nikolaus Romani (born 1952) originates from the Montafon valley, a renowned skiing area in Western Austria. He combined skiing, learning and research at the University of Innsbruck where he obtained his PhD in biology 1983. After two years at the Rockefeller University in Ralph Steinman's laboratory (1987-88) he - together with Gerold Schuler, his co-worker and mentor - helped to make Innsbruck one of the first "dendritic cell strongholds" in the Old World. He became Associate Professor in 1990 and has been involved in dendritic cell research at the Department of Dermatology of "Innsbruck Medical University" ever since.


Alexander Steinkasserer (born 1958) originates from South Tyrol (Northern Italy) and apart from skiing he spent most of his youth on football grounds. He studied biology in Innsbruck (PhD). Afterwards he moved to the Institute of Immunology in Munich (1986-1989) and then to the University of Oxford (1989-1993). Next he went to the Novartis Research Institute in Vienna, were he encountered for the first time dendritic cells (1993-1996). Then he spent two years at the research departments of Immuno-Baxter in Vienna, before he obtained his Professorship at the University of Erlangen were he works since 1998 and heads the Department of Experimental Dermatology.
See More
Buy Both and Save 25%!
Handbook of Dendritic Cells: Biology, Diseases and Therapies, 3 Volume Set (US $745.00)
-and- Immunology: Mucosal and Body Surface Defences (US $93.95)
Total List Price: US $838.95
Discounted Price: US $629.21 (Save: US $209.74)
Cannot be combined with any other offers. Learn more.