Successful Trouble Shooting for Process Engineers: A Complete Course in Case Studies
ISBN: 978-3-527-31163-7
442 pages
December 2005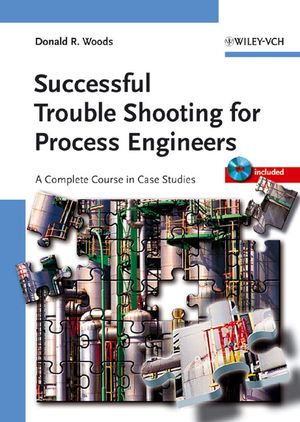 Chemical production processes consist of many complex apparatuses involving both moving and static parts as well as interconnecting pipes, control mechanisms and electronics, mechanical and thermal stages, heat exchangers, waste and side product processing units, power ducts and many others. Bringing such a complicated unit online and ensuring its continued productivity requires substantial skill at anticipating, detecting and solving acute problems. This book is the professional's and student's entrance to the fascinating and important world of trouble shooting for chemical, pharmaceutical and other production processes.
See More
Book
1. What is trouble shooting?
2. Mental Problem solving process used in Trouble Shooting
3. Rules of thumb for trouble shooting processes and equipment malfunction
4. Trouble shooting in action: Examples
5. Polishing your skills: problem solving process
6. Polishing your skills: gathering data and the critical thinking process
7. Polishing your skills: Interpersonal skills and factors influencing personal performance
8. Polishing your skill: putting it all together
9. What next?
Subject index

CD
Literature
Appendices
A. Self test for Experience Knowledge about process equipment
B. Reading P&IDs and Systems thinking
C. Feedback for the Cases from Chapters 1, 2 and 7
D. Coded Answers for the Questions posed to solve the Cases in Chapter 8
E. Debrief for the Cases: What was wrong. Feedback on the Questions posed and corrective actions
F. Other tasks for skill-development activities in Chapters 5, 6 and 7
G. Selected responses to the Tasks in Chapters 5, 6, and 7
H. Causes for various equipment
I. Feedback of typical symptoms for selected causes
References
See More
Only decades of experience allow the compilation of such a guide for engineers - Donald R. Woods possesses them. He is a highly renowned Professor Emeritus and recognized expert from McMaster University, Canada, having received two honorary doctoral degrees in this field as well as being one of the 20 persons which received the Century of Achievement Award for major contributions to the science and engineering of Canada in the 20th century.
See More