Intellectual Property Management: A Guide for Scientists, Engineers, Financiers, and Managers
ISBN: 978-3-527-31286-3
188 pages
February 2006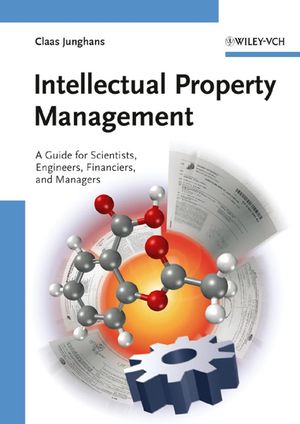 This concise introduction to European patent law and global patent perspectives combines the legal and economic perspectives to adopt a unique approach that serves both inventors -- engineers and scientists -- as well as financiers and economists.
Written by experts with first-hand knowledge this book is completely up-to-date, taking into account recent additions to European patent law, especially in the field of biotechnology and genetics. While concentrating on the EU, the world perspective is nevertheless represented, including US particularities. The result is a set of guidelines allowing readers to develop a holistic patent strategy suitable for their specific needs.
For scientists, engineers, managers and financiers in the chemical industry.
See More
Terminology
The Economic Objectives of Protection
Patenting
Ownership
Trademarks and Designs
Licencing
Starting up and Financing Your Venture
The Importance of Business Structures
See More
Claas Junghans studied chemistry at the Technical University of Berlin, Germany, and completed his Ph.D. in molecular biology at the Free University of Berlin. He obtained additional qualifications in economics from Hagen Open University and a degree (Magister) in corporate legal protection from Humboldt University, Berlin. From 1997 to 2003, he served as Chief Operational Officer of Mologen AG, responsible for intellectual property protection and corporate strategy. He has obtained the qualification as European Patent Attorney and is currently independent partner of several businesses.

Adam Levy has a Natural Sciences degree from Cambridge University and an MBA from INSEAD, Paris, and has held senior management positions in several biotechnology companies.
See More