Chalcogenide Photovoltaics: Physics, Technologies, and Thin Film Devices
ISBN: 978-3-527-31459-1
384 pages
March 2011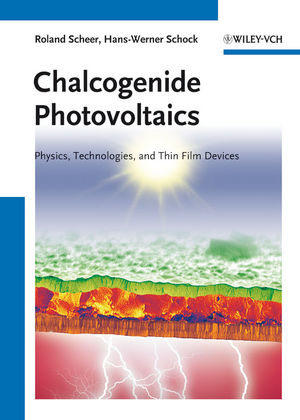 This first comprehensive description of the most important material properties and device aspects closes the gap between general books on solar cells and journal articles on chalcogenide-based photovoltaics.

Written by two very renowned authors with years of practical experience in the field, the book covers II-VI and I-III-VI2 materials as well as energy conversion at heterojunctions. It also discusses the latest semiconductor heterojunction models and presents modern analysis concepts. Thin film technology is explained with an emphasis on current and future techniques for mass production, and the book closes with a compendium of failure analysis in photovoltaic thin film modules.

With its overview of the semiconductor physics and technology needed, this practical book is ideal for students, researchers, and manufacturers, as well as for the growing number of engineers and researchers working in companies and institutes on chalcogenide photovoltaics.

See More
Preface
Symbols and Acronyms

INTRODUCTION
History of Cu(In,Ga)(S,Se), Solar Cells
History of CdTe Solar Cells
Prospects of Chalcogenide Photovoltaics

THIN FILM HETEROSTRUCTURES
Energies and Potentials
Charge Densities and Fluxes
Energy Band Diagrams
Diode Currents
Light Generated Currents
Device Analysis and Parameters

DESIGN RULES FOR HETEROSTRUCTURE SOLAR CELLS AND MODULES
Absorber Bandgap
Band Alignment
Emitter Doping and Doping Ratio
Fermi Level Pinning
Absorber Doping
Absorber Thickness
Grain Boundaries
Back Contact Barrier
Buffer Thickness
Front Surface Gradient
Back Surface Gradients
Monolithic Series Interconnection

THIN FILM MATERIAL PROPERTIES
AII-BVI Absorbers
AI-BIII-C2VI Absorbers
Buffer Layers
Window Layers
Interfaces

THIN FILM TECHNOLOGY
CdTe Cells and Modules
Cu(In,Ga)(S,Se)2 Cells and Modules

PHOTOVOLTAIC PROPERTIES OF STANDARD DEVICES
CdTe Device Properties
AI-BIII-C2VI Device Properties

APPENDIX A: FREQUENTLY OBSERVED ANOMALIES
JV Curves
Colar Cell Parameters
Diode Parameters
Quantum Efficiency
Transient Effects

APPENDIX B: TABLES

See More
Roland Scheer received his diploma degree in electronic engineering from the University of Applied Sciences Berlin, Germany. He joined AEG Konstanz, Germany, in 1983 as electronic engineer. In parallel, he studied physics at the University of Konstanz and at the Technical University of Berlin where he received his physics diploma in 1990. In 1994, he finished his doctoral thesis in physics and joined the Helmholtz Centre (former Hahn-Meitner Institute) in Berlin. His R&D activities are focused on thin film solar cells where he invented a new solar cell based on CuInS2. In 2002, Roland Scheer was visiting scientist at the Advanced Institute for Science and Technology (AIST) in Tsukuba, Japan. He was lecturer at the University of Potsdam until in 2010 he became full professor holding the endowed chair for photovoltaics at the Martin-Luther-University in Halle-Wittenberg.

Hans-Werner Schock became head of the Institute of Technology at the Helmholtz Zentrum Berlin für Materialien und Energie (former Hahn-Meitner Institute) in the division "Solar Energy Research" in late 2004. He received his diploma in electrical engineering in 1974 and obtained his PhD in electrical engineering from Stuttgart University, Germany, in 1986. Starting in the early 70s, he has taken the development of chalcogenide solar cells from basic investigations to the transfer to a pilot fabrication plant. From 1986 to 2003 he coordinated the research on chalcopyrite based solar cells in the framework of the European photovoltaic program. From 1982 to 2004 he was head of the compound semiconductor thin film group of the Institute of Physical Electronics at the University of Stuttgart. He is author or co-author of more than 300 contributions in books, scientific journals and published conference proceedings. For his achievements in the development of chalcopyrite based solar cells he received the prestigious "Becquerel Prize" in 2010.
See More