Membrane Technology, Volume 1: Membranes for Life Sciences
ISBN: 978-3-527-31480-5
343 pages
November 2007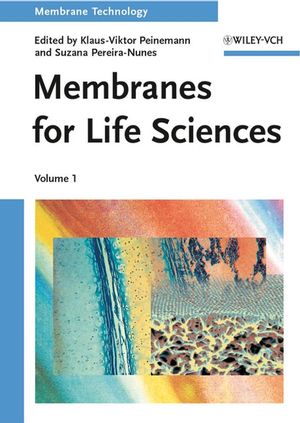 Examining artificial membranes in terms of biocompatibility, drug delivery and controlled release, this book illustrates how existing membrane technologies are being exploited and advanced in emerging medical applications. This work, edited by internationally recognized experts, has author contributions from prominent members of this field who discuss details of all aspects of this technology. This volume provides broad, yet detailed information on synthetic membranes and their applications, including dialysis and artificial kidneys, gas exchange, artificial lungs, devices to assist liver function, and membrane affinity chromatography.
See More
Introduction
Membranes for Haemodialysis
Gas Exchange Membranes for Artificial Lung and Lung Support Systems
Membranes for Blood Plasma Separation and Blood Plasma Treatment
Membranes in the Biopharmaceutical Industry
Membrane Applications in Red and White Biotechnology
Membranes in Controlled Release
Drug Delivery Through Skin -
Overcoming the Ultimate Biological Membrane
Application of Membranes in Tissue Engineering and Biohybrid Organ Technology
Membranes in Bio-artificlal Pancreas
See More
S. P. Nunes is currently head of Polymer Technology at GKSS Research Center Geesthacht in Germany. She has been working on the development of polymeric materials and membranes for different applications for over 20 years, with over 65 papers in international journals and 100 contributions to congresses. In the last four years she has dedicated her time to the membrane development for fuel cells, coordinating German and European projects in the field. Prior to this, she was Associate Professor at the University of Campinas, Brazil, a researcher at Pirelli, and Humboldt fellow at the University of Mainz, Germany.

K.-V. Peinemann is currently Senior Scientist at GKSS Research Center Geesthacht in Germany and has worked in the field of membrane science and technology for 25 years. He has organized numerous international workshops on membrane formation and has been lecturing since 1995 at the University of Hanover. From 2002 to 2004, Professor Peinemann served as President of the European Membrane Society and is co-founder of the membrane company GMT Membrantechnik in Rheinfelden, Germany. He has published some 80 papers in international journals and holds 15 membrane-related patents.

See More