Multilayer Thin Films: Sequential Assembly of Nanocomposite Materials, 2nd Edition
ISBN: 978-3-527-31648-9
1112 pages
June 2012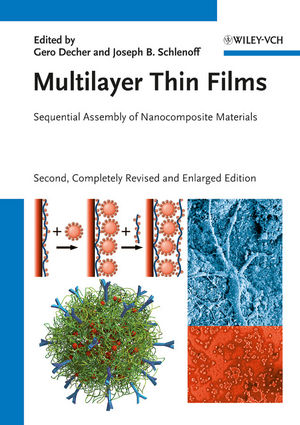 This second, comprehensive edition of the pioneering book in this fi eld has been completely revised and extended, now stretching to two
volumes. The result is a comprehensive summary of layer-by-layer assembled, truly hybrid nanomaterials and thin fi lms, covering organic,
inorganic, colloidal, macromolecular, and biological components, as well as the assembly of nanoscale fi lms derived from them on surfaces.
These two volumes are essential for anyone working in the field, as well as scientists and researchers active in materials development, who
needs the key knowledge provided herein for linking the field of molecular self-assembly with the bio- and materials sciences.
See More
Preface
Foreword

PART I: PREPARATION AND CHARACTERIZATION

Layer-by-Layer Processed Multilayers: Challenges and Opportunities
From Conventional to Unconventional Layer-by-Layer Assembly Methods
Hierarchic Multilayer Thin Films
Layer-by-Layer Assembly Using Host-Guest Interactions
LbL Assemblies Using van der Waals or Affinity Interaction and Their Applications
Layer-by-Layer Assembly of Polymeric Complexes
Making Aqueous Nanocolloids from Low Soluble Materials: LbL Shells on Nanocores
Cellulose Fibres and Fibrils as Templates for the Layer-by-Layer (LbL) Technology
Freely Standing LbL Films
Neutron Reflectrometry at Polyelectrolyte Multilayers
Molecular Conformation in and Structural Properties of Polyelectrolyte Multilayers
Ion Doping in Polyelectrolyte Multilayers
Conductivity Spectra of Polyelectrolyte Multilayers Revealing Ion Transport Processes
Layer-by-Layer Assemblies of pH- and Temperature-Responsive Polymers: Molecular Interactions, Exchange with Solution, Film Structure and Response
Tailoring Mechanics of Free-Standing Multilayers
Design and Translation of Nanolayer Assembly Processes: Electrochemical Energy to Programmable Pharmacies
Surface Initiated Polymerization and Layer-by-Layer Films
Quartz Crystal Resonator as a Tool for Following the Buildup of Polyelectrolyte Multilayers

PART II: APPLICATIONS

Electrostatic and Coordinative Supramolecular Assembly of Functional Films for Electronic Applications and Materials Separation
Optoelectronic Materials and Devices Incorporating Polyelectrolyte Multilayers
Nanostructured Electrodes Assembled from Metal Nanoparticles and Quantum Dots in Polyelectrolytes
Advanced Nanoscale Composite Materials with Record Properties by Layer-by-Layer Assembly
Carbon Nanotube Based Assemblies
Nanoconfined Polyelectrolyte Multilayers: From Chain Crowding to Biological Applications
The Design of Polysaccharide Multilayers for Medical Applications
Polyelectrolyte Multilayer Films Based on Polysaccharides: From Physical Chemistry to the Control of Cell Differentiation
Diffusion of Nanoparticles in LbL Films as a New Tool to Produce Multifunctional Coatings
Biological Active Surfaces on Colloids by Means of the Layer-by-Layer Technology
A 'Multilayered' Approach to the Delivery of DNA: Exploiting the Structure of Polyelectrolyte Multilayers to Promote Surface-Mediated Cell Transfection and Multi-Agent Delivery
Designing LbL Capsules for Drug Loading and Release
Stimuli-Sensitive LbL Films for Controlled Delivery of Proteins and Drugs
Assembly of Multilayer Capsules for Drug Encapsulation and Controlled Release
Engineered Thin Films and Capsules for Biomedical Applications
Assembly of Polymer Multilayers from Organic Solvents for Biomolecule Encapsulation
Stimuli-Responsive LbL Capsules
Domain-Containing Polyelectrolyte Films for the Entrapment of Active Compounds
Ion Transport through Polyelectrolyte Multilayers
Remote Release from Multilayer Capsules and Films
Controlled Architectures in LbL Films for Sensing and Biosensing
Patterned Multilayer Systems and Directed Self-Assembly of Functional Nano-Bio Materials
Electrochemically Active LbL Multilayer Films: From Biosensors to Nanocatalysts
Multilayer Polyelectrolyte Assembly in Feedback Active Coatings and Films
See More
Gero Decher is a Distinguished Professor of Chemistry at the University of Strasbourg, France, a senior member of the Institut Universitaire de France (IUF) and a member of the International Center for Frontier Research in Chemistry. His research team is located at CNRS Institut Charles Sadron in Strasbourg where he continues to develop the layer-by-layer assembly method in collaboration with his colleagues Pierre Schaaf and Jean-Claude Voegel. This method is applied in many laboratories world-wide in various scientific disciplines, including chemistry, materials science and biotechnology. Gero Decher has received numerous awards, including the ECIS-Rhodia prize in 2010 and the Grand Prix of the French "Académie des Sciences" for Nanobiotechnology in 2009.

Joseph B. Schlenoff is Mandelkern Professor of Polymer Science of the Department of Chemistry and Biochemistry at the Florida State University, USA. His laboratory is engaged in multidisciplinary research centered on the use of novel structures made from polyelectrolytes that are deposited using the layer-by-layer technique. His work, supported by the National Science Foundation and the National Institutes of Health, among others, focuses on fundamental polymer science aspects of polyelectrolyte complexes and on their interactions with biological materials. In 2011, Joseph Schlenoff received a Gutenburg Chair at the University of Strasbourg.
See More
Buy Both and Save 25%!
Multilayer Thin Films: Sequential Assembly of Nanocomposite Materials, 2nd Edition (US $465.00)
-and- Intelligent Nanomaterials (US $249.00)
Total List Price: US $714.00
Discounted Price: US $535.50 (Save: US $178.50)
Cannot be combined with any other offers. Learn more.