Nanotechnology
ISBN: 978-3-527-31733-2
388 pages
March 2009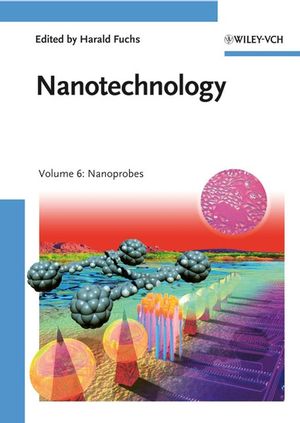 The only reference book which discusses the usage of nanoprobes for structure determination, in an industry where miniaturisation is the main focus. Designed for newcomers as well as professionals already in the industry.
See More
1 Spin-Polarized Scanning Tunneling Microscopy
2 Nanoscale Imaging and Force Analysis with Atomic Force Microscopy
3 Probing Hydrodynamic Fluctuations with a Brownian Particle
4 Nanoscale Thermal and Mechanical Interactions Studies using Heatable Probes
5 Materials Integration by Dip-Pen Nanolithography
6 Scanning Ion Conductance Microscopy of Cellular and Artificial Membranes
7 Nanoanalysis by Atom Probe Tomography
8 Cryoelectron Tomography: Visualizing the Molecular Architecture of Cells
9 Time-Resolved Two-Photon Photoemission on Surfaces and Nanoparticles
10 Nanoplasmonics
11 Impedance Analysis of Cell Junctions

See More
Harald Fuchs:
Director of the Physical Institute of the University of Munster and Scientific Director of the Center for Nanotechnology (CeNTech). After studying theoretical physics at the University of Saarbrucken and his PhD in materials physics on nanocrystalline systems, he worked at the IBM research laboratory in Ruschlikon, and at BASF before he moved as a full professor to the Institute of Physics at the University of Munster. His research focuses on nanoanalytical methods, and interfacial physics including computer modelling. He received the Philip Morris research prize for his work on nanotechnology. He is member of the German Academy of Sciences Leopoldina and the German Academy of Science and Engineering (acatech). He has co-authored more than 300 original papers, filed 33 patent applications and is co-founder of two companies. He holds two guest professorships in China and serves as cochairman of the advisory editorial board of Small.

See More